Post by viscount on Aug 25, 2012 21:11:36 GMT 1
A few years ago several drawers and an LP box of assorted b&w photos came back into my possession. The collection had been gathered by MAS 'Flypast' editors in the late '70s through to the mid '80s for possible use in the magazine then sale to members. Nothing has been added since 1986. Regretably few Liverpool shots remain, however there is an absolute wealth of other forgotten photos of interesting aircraft.
The quality of photos vary, mostly b&ws, a number are clearly home processed and others severely cropped with sissors for use in 'Flypast'. I have digitally straightened, altered the contrast, cropped and removed major blemishes whenever necessary before posting. Very few have the photographer's name on the back, making it impossible to credit these shots, but I will do whenever I can.
The Viscount and Vanguard photos in the box are an odd mix, which in some ways makes them all the more interesting.
I welcome any comments, corrections and further shots added to the thread.
THE VICKERS VISCOUNT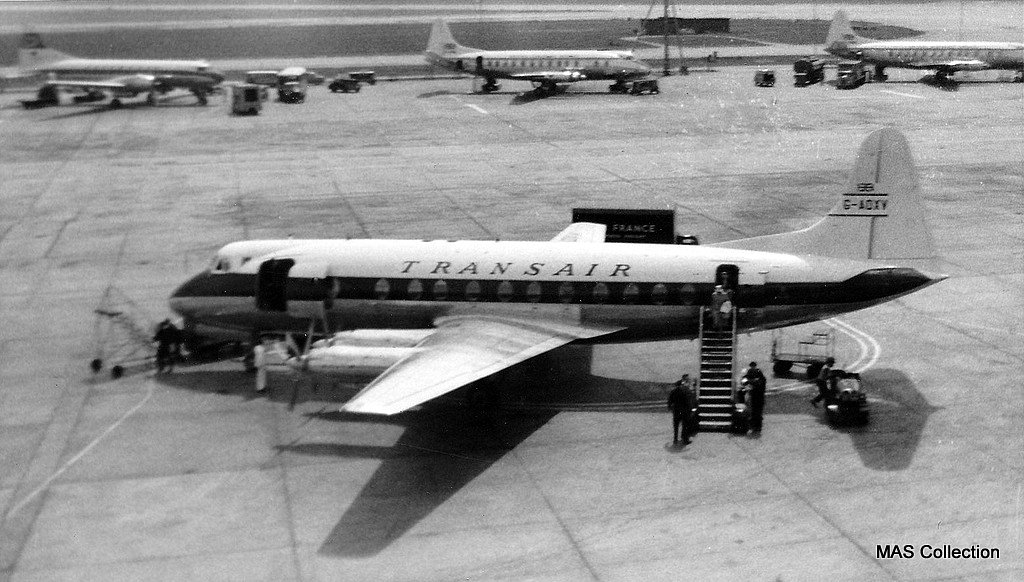 1. G-AOXV a Viscount V.804 was delivered new to Transair 9.57 and became part of British United Airlines on merger 7.60. Became SP-LVA with LOT 11.62 and was lost in a crash west of Liege 20.8.65. This photo is at London Air Port (the correct name for London Heathrow at the time), note the Lufthansa Convair Cv.340 at the far side of the apron, along with Viscounts in the earliest colours worn by the BEA fleet.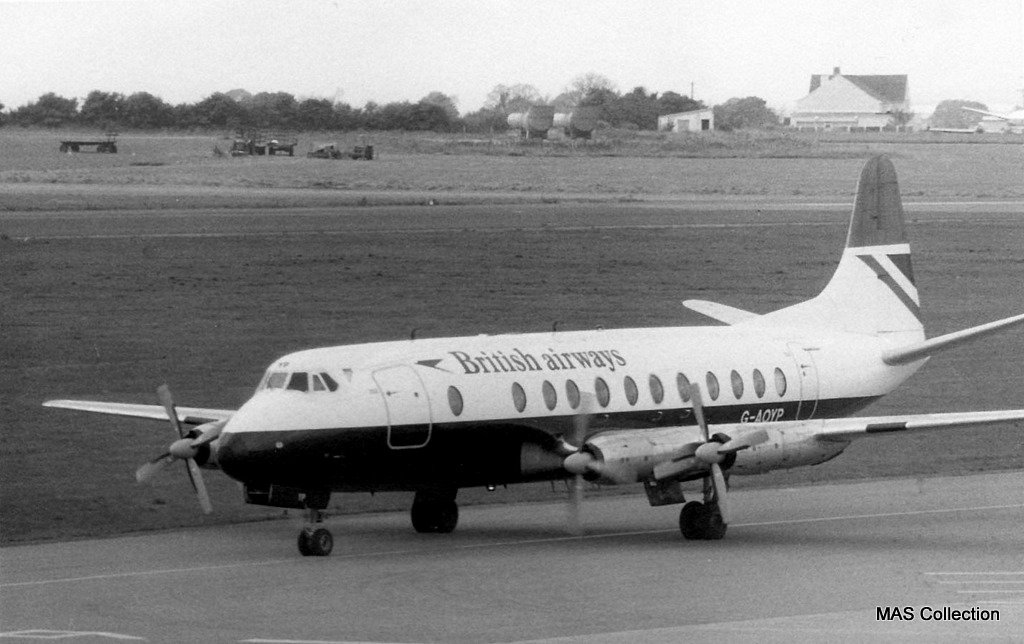 2. Viscount V.806 G-AOYP in the final BEA/BA colours worn by the Viscount fleet. This aircraft served by BEA, Cambrian, BA, BAF and finally as G-PFBT with British World.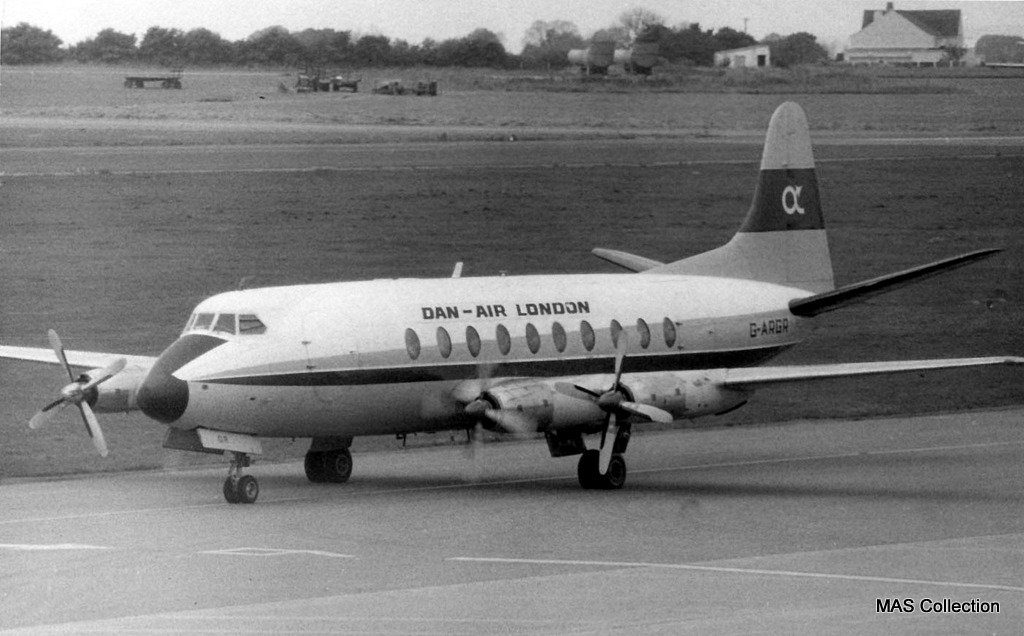 3. Viscount V.708 G-ARGR in full Alidair scheme, but with Dan Air titles. It was leased to Dan Air briefly 7.77 to 8.77 and again 7.78 to 1.79. The location is clearly the same as the previous BA shot, but where?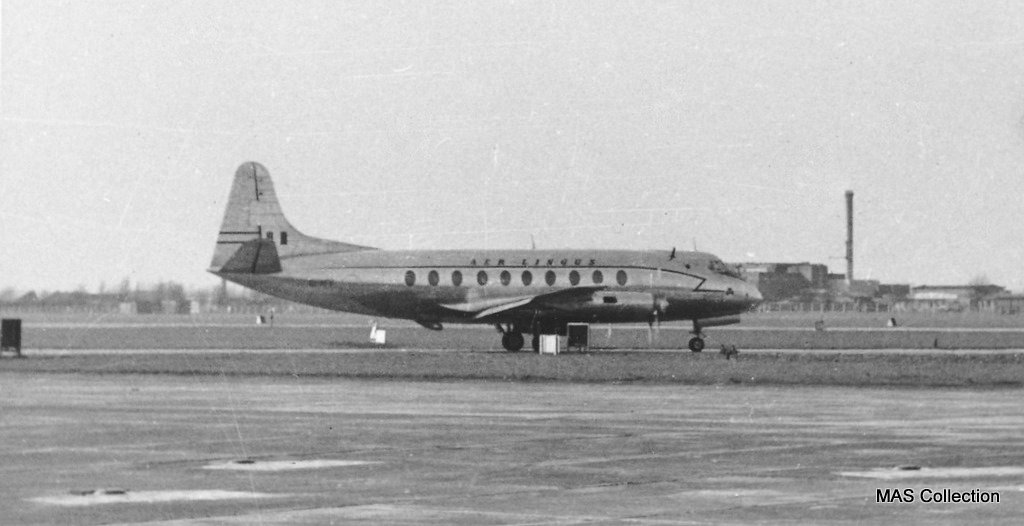 4. EI-AFV V.707 Viscount in early Aer Lingus scheme. It was delivered new 3.54 and sold to Tradair 2.60 as G-APZB. This shot is dated LAP 1955, but is unnamed.
While I've been able using Picasa to get rid of spot blemishes and clean up these photos pretty well, this shot is scratched beyond my current abilities to clean it - however it is still well worth posting despite the damage as photos of Aer Lingus Viscount 700s are come across dar less frequently than their more recent Viscount 800s.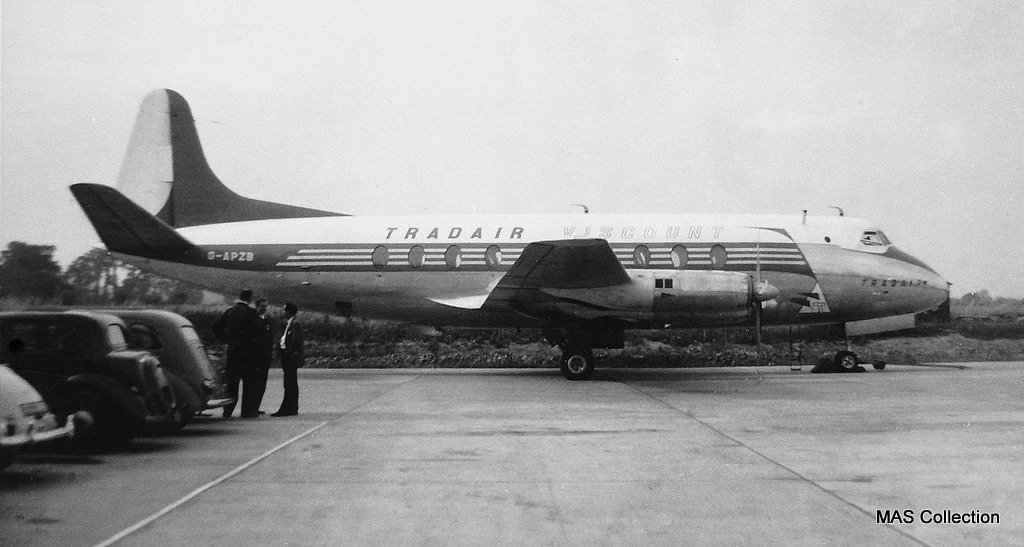 5. By co-incidence, this is G-APZB in the colours of Tradair, who operated it 2.60 until 11.62. Subsequently served with Starways, British Eagle, Channel and BKS until wfu and broken-up at Southend 2.70.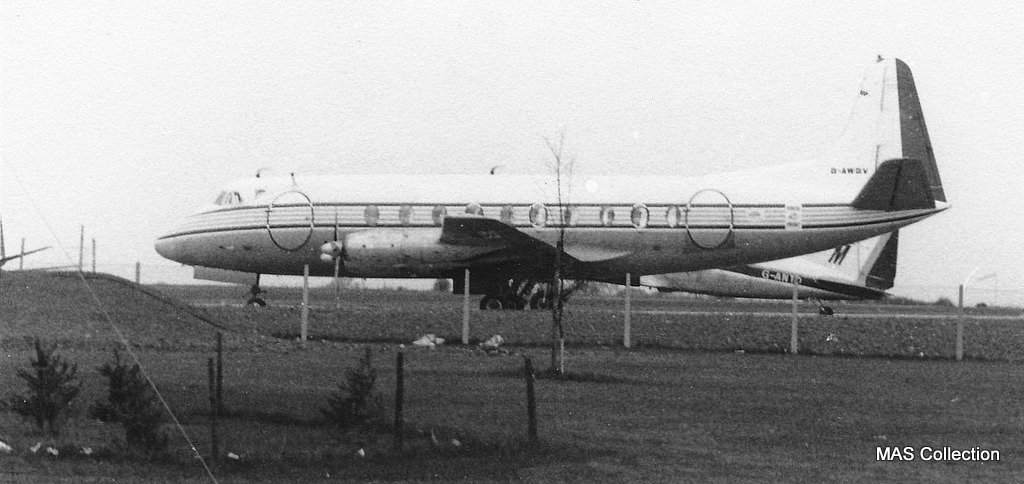 6. V.745D Viscount G-AWGV with no titles. Formerly I-LIRE of Alitalia, it was purchased by BMA 4.68 and seen here prior to repaint out of its Alitalia scheme. It did not serve long with BMA as it broken-up at Teesside 5.70.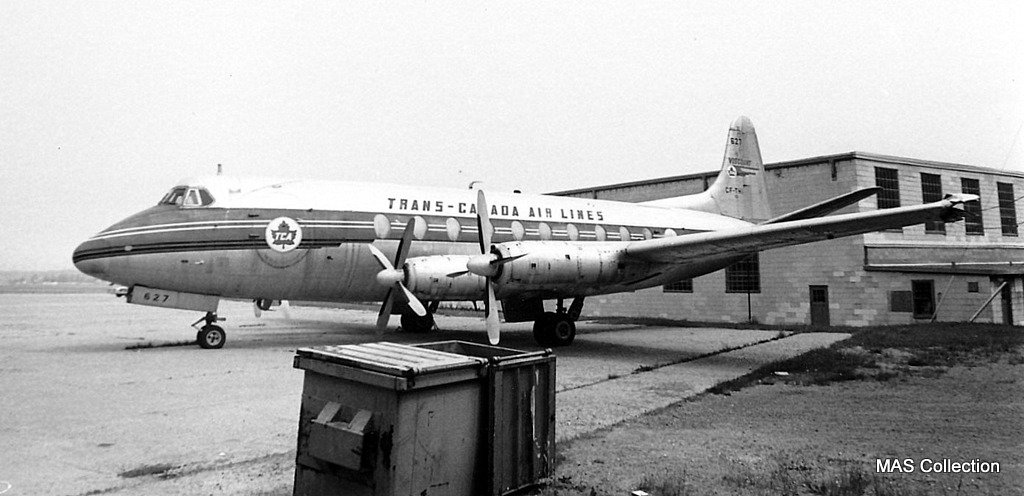 7. V.757 Viscount CF-THI was delivered new to Trans-Canada airlines 5.57 with fleet number 627. Became part of Air Canada on re-naming of the airline 6.64. Today this aircraft is preserved with the National Museum of Science in Canada. This is a
Ken Cothliff
photo taken at Rockcliff in 1979.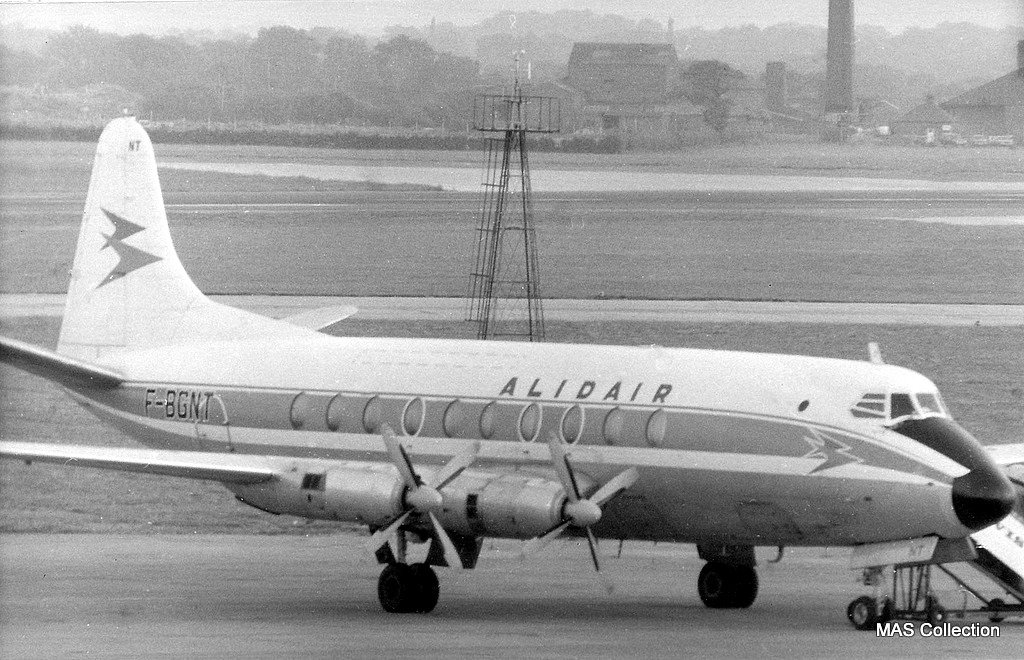 8. F-BGNT a V.708 Viscount wears full Air Inter scheme, but Alidair titles. Purchased by Alidair 5.75 it was operated in French marks until re-registered as G-BDIK 8.75 and operated until withdrawn EMA 10.76 and broken-up in 1979.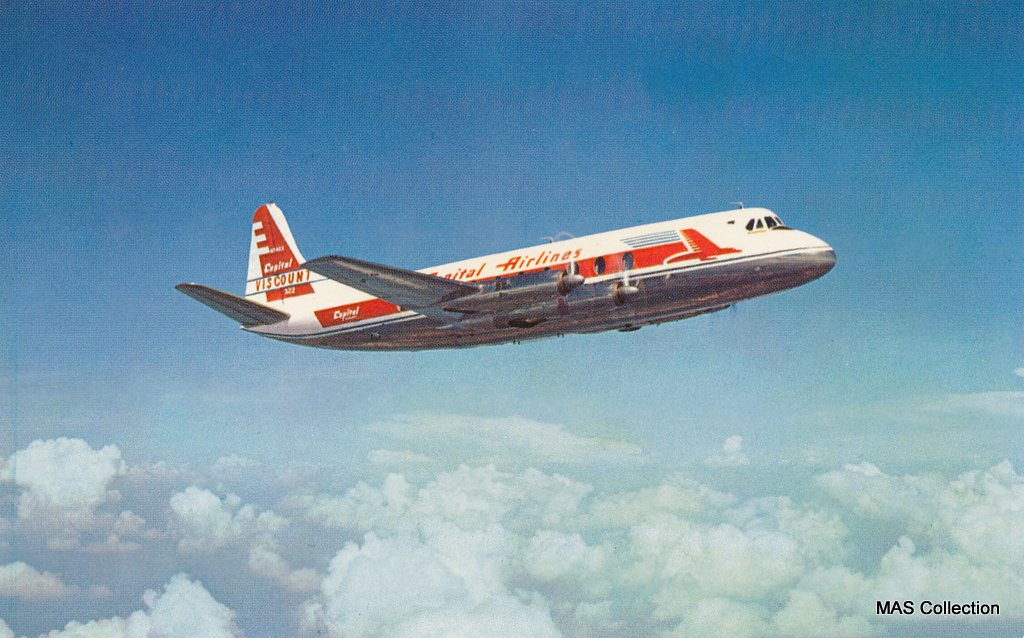 9. A rare colour picture in the collection. An American postcard produced by
Colourpicture Publishers Inc
of Boston. Capital Airways operated a number of V.745D Viscounts, delivered 1955/56 with a few surviving to fly with United after merger 6.61.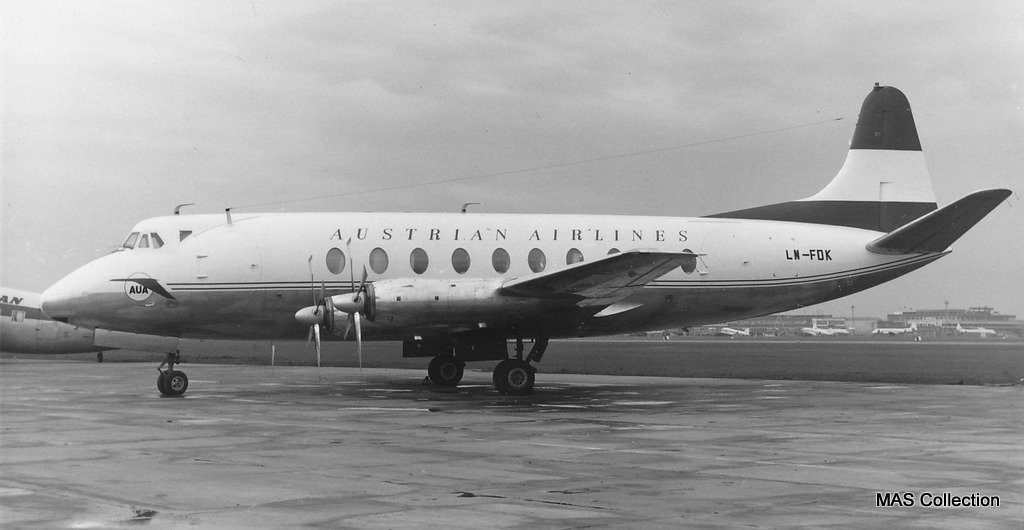 10. V.779D Viscount LN-FOK of Fred Olsen seen in this
Brian Stainer
print in full Austrian Airlines scheme. It was leased by Austrian 1.58 to 4.60 as OE-LAD, so this photo is presumably at either the start or end of the lease period.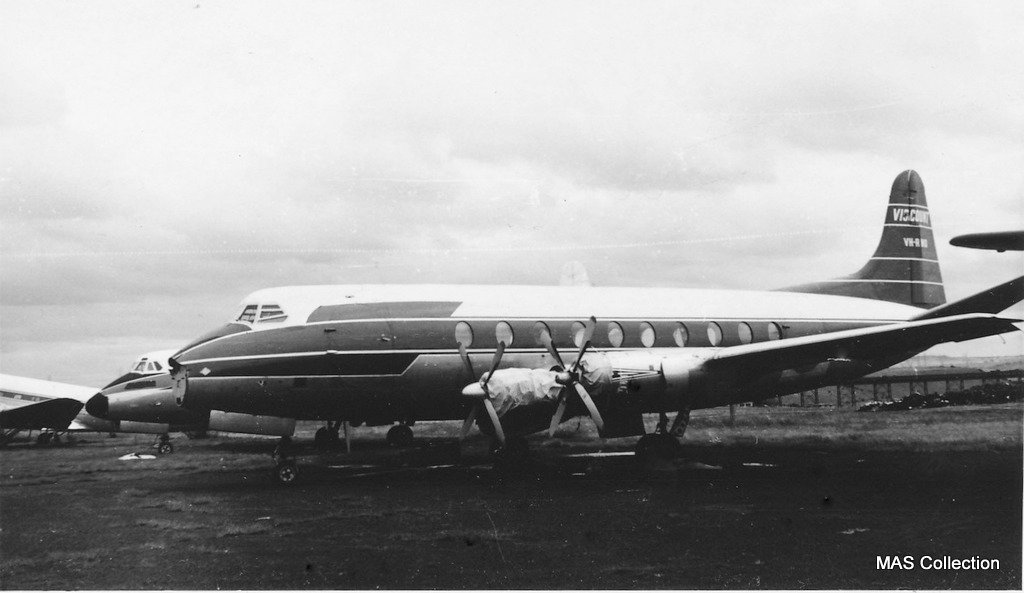 11. This appears to be VH-RMO a V.747 Viscount at Essendon 2.71 (the notation appears to be in Phil Butler's handwriting). This would fit as VH-RMO was wfu at Essendon 12.68 by Ansett Airways and was not broken-up until 10.76.

12. Not too sure about this one. Could be colours of Oman Air Force. Clearly this photo was once used as an illustration in MAS 'Flypast', hopefully if I ever find which issue, the caption there will explain all and credit the photographer!
Added later on edit:
Certainly is an Oman Viscount, one of two parked-up at Ringway on the Fairey Apron awaiting sale early 1978. Note the 'slipper' long range tanks on the wind leading edge outboard of the engines. This
Keith Price
photo appeared on the back cover of 'Flypast' April 1978.