Post by viscount on Sept 6, 2012 15:11:21 GMT 1
A few years ago several drawers and an LP box of assorted b&w photos came back into my possession. The collection had been gathered by MAS 'Flypast' editors in the late '70s through to the mid '80s for possible use in the magazine then sale to members. Nothing has been added since 1986. Regretably few Liverpool shots remain, however there is an absolute wealth of other forgotten photos of interesting aircraft.
The quality of photos vary, mostly b&ws, a number are clearly home processed and others severely cropped with sissors for use in 'Flypast'. I have digitally straightened, altered the contrast, cropped and removed major blemishes whenever necessary before posting. Very few have the photographer's name on the back, making it impossible to credit these shots, but I will do whenever I can.
This selection, which will run over several posts sets out to mainly cover the Meteor, Hunter and Javelin - although I've thrown in a couple of other types too, which although not quite on topic wouldn't get the airing they deserve otherwise.
1. An undated photo of Swift FR.5 WK277/N in 2 Sqdn markings. This aircraft is now preserved with the Newark Air Museum, this shot is presumably at either Cosford or Leconfield as it was at both locations prior to preservation. No details or name on the back of the print unfortunately.
2. A pair of RN Scimitar F.1s at Hurn, one coded 225. Undated, but clearly winter-time photo by
R.L.Tushingham
.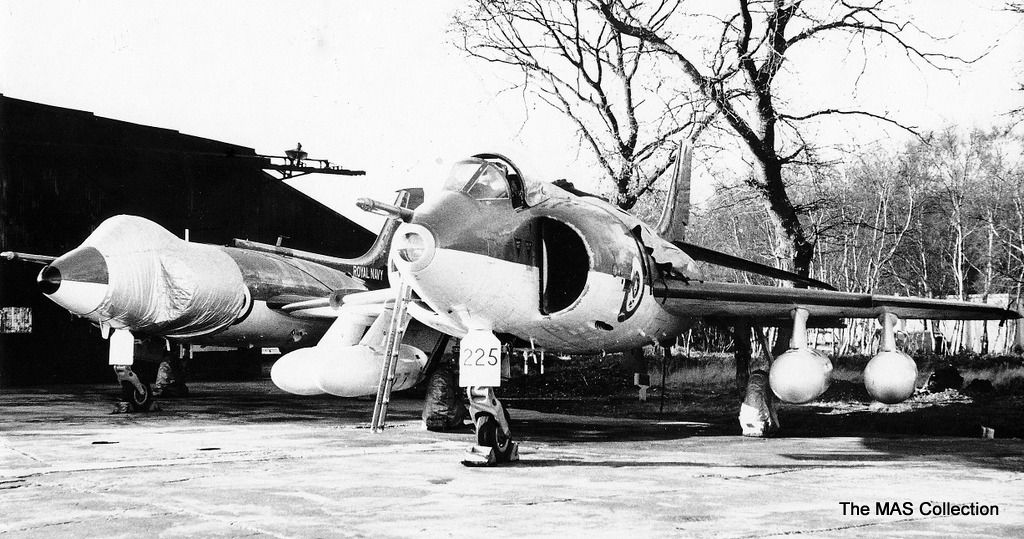 3. Sole photo in the collection of a Westland Wyvern S.4, VZ748. Not a type commonly featured, indeed the only one I've ever seen is in the FAAM at Yeovilton. Stamped as a
Westland Aircraft Ltd, Yeovil
photo.
4A. XA628 a Javelin FAW.1 in pristine condition. Presumed a before delivery photo, as it is an a
Gloster Aircraft Co. Ltd.
photo.
4B. XA636/636 a Javelin FAW.4 of 41 Sqdn. 41 Sqdn only operated these Javelins 2.58 until 2.60. 41 Sqdn operated Javelins initially from Coltishall, then moved to Wattisham. No details on back.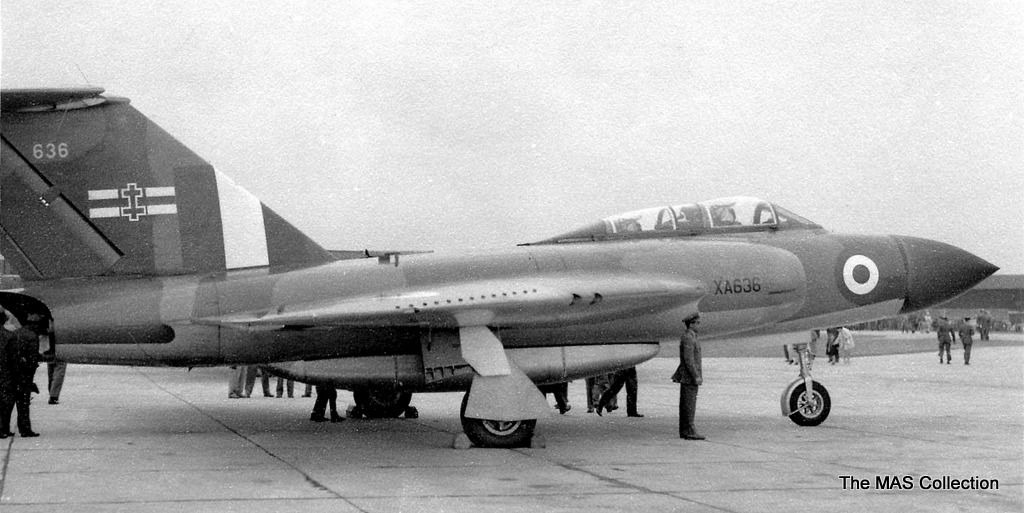 5. XA737, with XA727 behind, both Javelin FAW.4, with a Javelin, Meteor NF. and a SE.5A (or maybe Gladiator) overhead. As this photo is clearly a pair with the next one, almost certainly 72 Sqdn, most likely either on retiring their last Meteor NF. during 6.59, co-incidential with the move from Church Fenton to Leconfield 28.6.59. A
Yorkshire Post and Leeds & Doncaster Chronicle
photo. Pity about the flare on the right.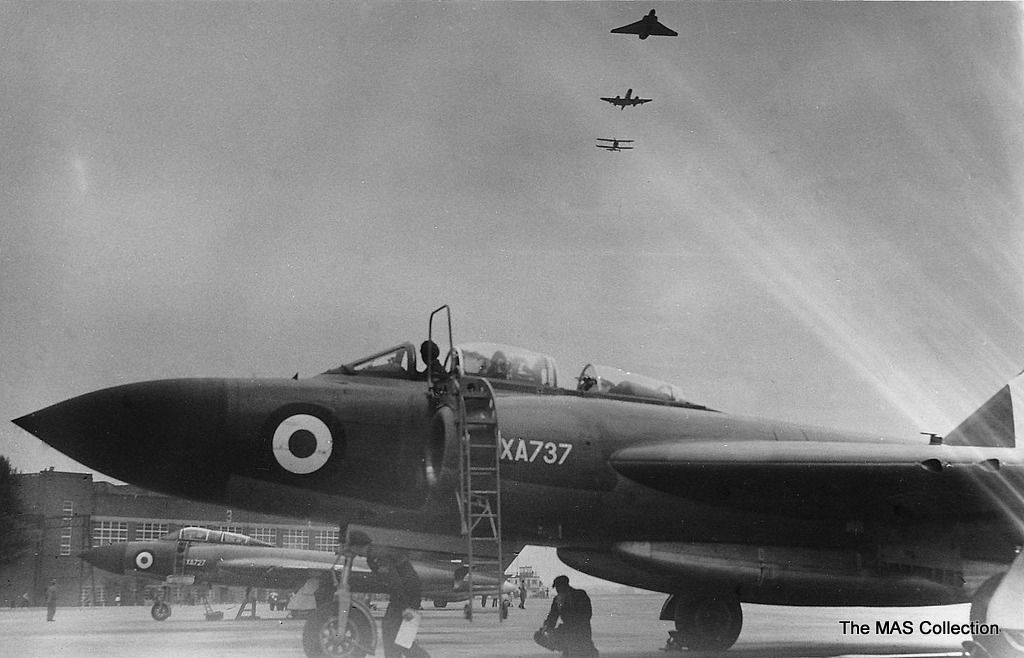 6. Javelin FAW.4 XA726/E in 72 Sqdn markings, at the same event as above as this is another
Yorkshire Post and Leeds & Doncaster Chronicle
photo. Clearly the Javelin and Meteor crew returning after the fly-by in the photo above! 72 Sqdn only operated Javelins 4.59 to 6.61, based at Leconfield.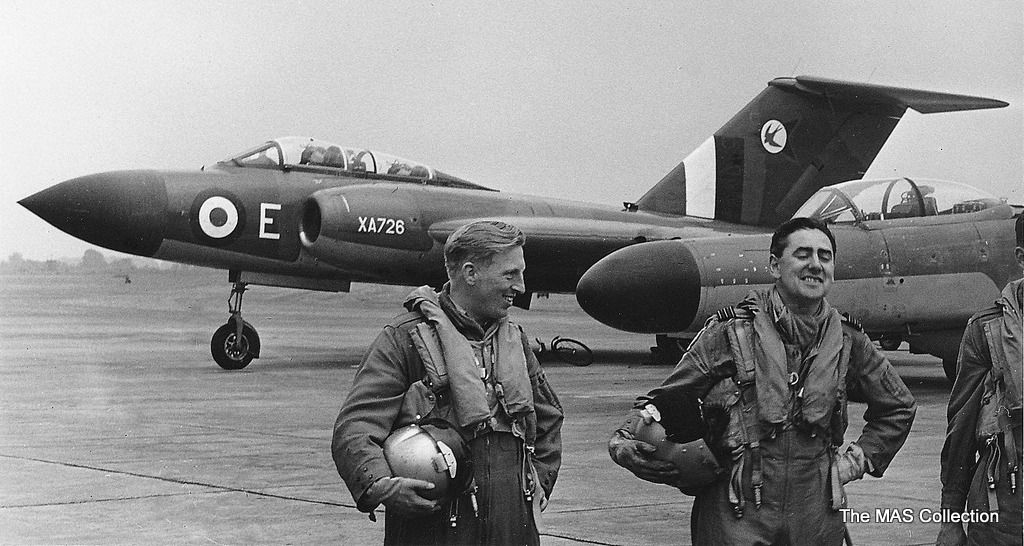 7. Javelin FAW.4 XA726/E again, however the unit code is in a different location and the unit badge has been changed - is it still 72 Sqdns 'swift' ? No details on back, although clearly at a RAF Station 'At Home' display.