Post by viscount on Aug 16, 2021 15:29:04 GMT 1
SOME MILITARY AIRCRAFT AT LIVERPOOL IN THE 1950s
Last of these posts with some of the Don Stephens collection. I'll finish with a section of military photos, starting with moving the Coastal Command Lancaster from the Airliners section. There were a great number of second line trainers and communication aircraft calling at Liverpool, but anything front-line, Swifts, Hunters, Valiants, Canberras etc were very few and far between, if ever seen. The period 1954-1956 is well remembered by those around at the time for the activity of Airwork Ltd, principally in No.1 hangar servicing Sabres and modifying Venoms particularly. The total lack of affordable SLR cameras along with telephoto lenses is clearly evident with a number of distant shots of the Sabres.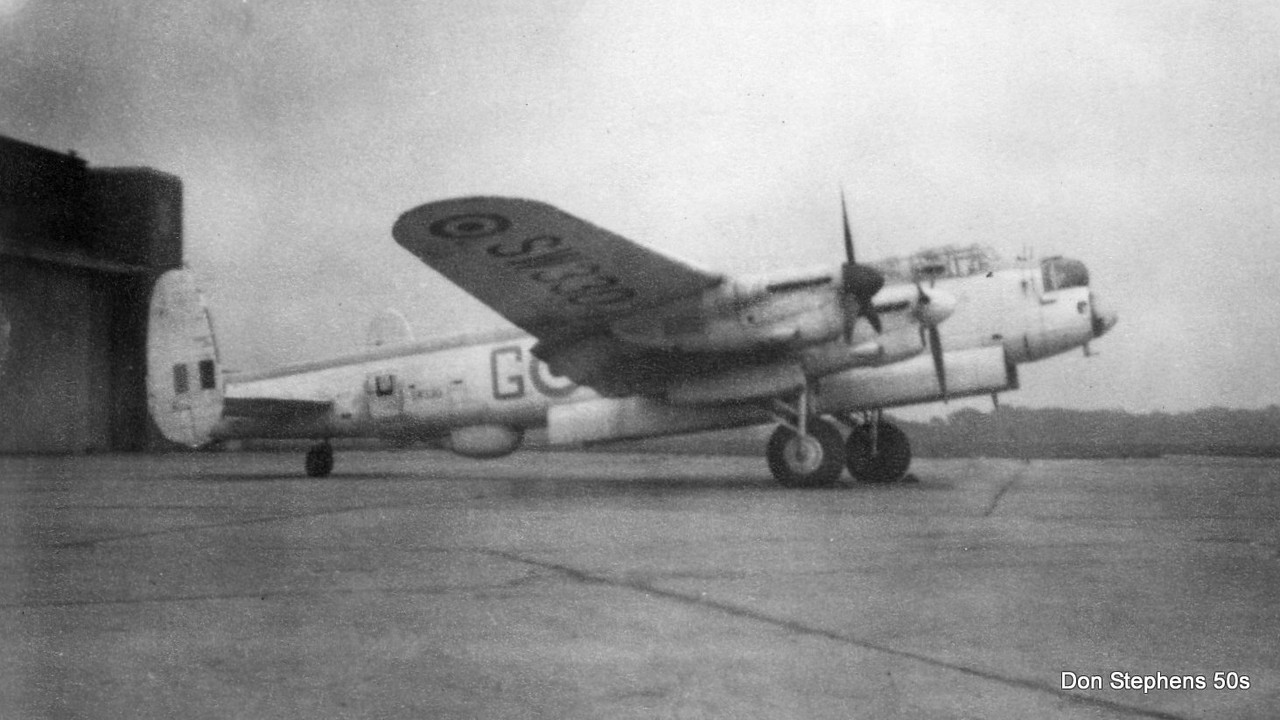 Avro Lancaster ASR.3 SW330/G of Coastal Command, from RAF Aldergrove, 9.8.51. Imagine cycling down to the airport as a young teenager to meet your mates, or getting off the bus during the summer holidays on Thursday 9th August 1951 and finding this parked in front of Hangar No.2 beside the balcony entrance. For the Air Sea Rescue role the bomb-bay was converted to carry a dingy which could be air dropped to survivors.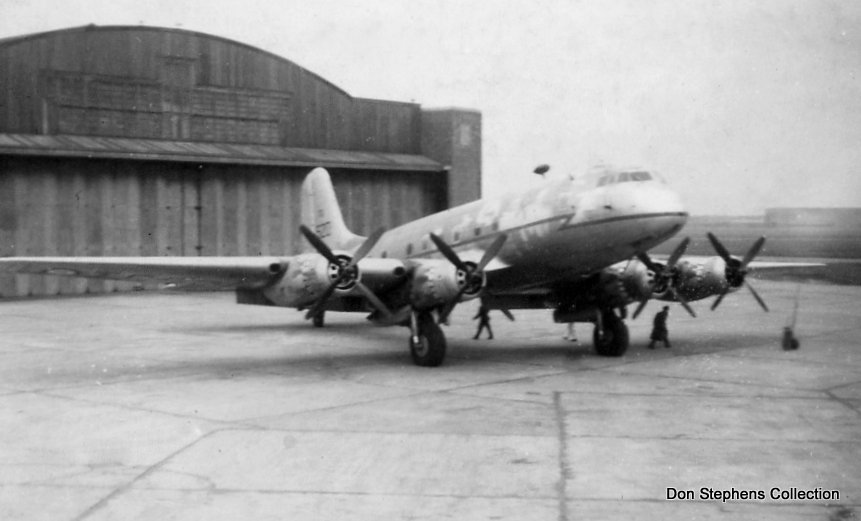 the visit by Hastings C.1 WJ522 is not in the Airport Logs, it could just be TG520 or TG523 though. Of these three alternatives, TG520 visited on 11th March 1950, so is likely the one, as the photo is far from the best quality and showing its age. Not certain if the state of the aircraft is degradation of the print or of the paintwork on the aircraft.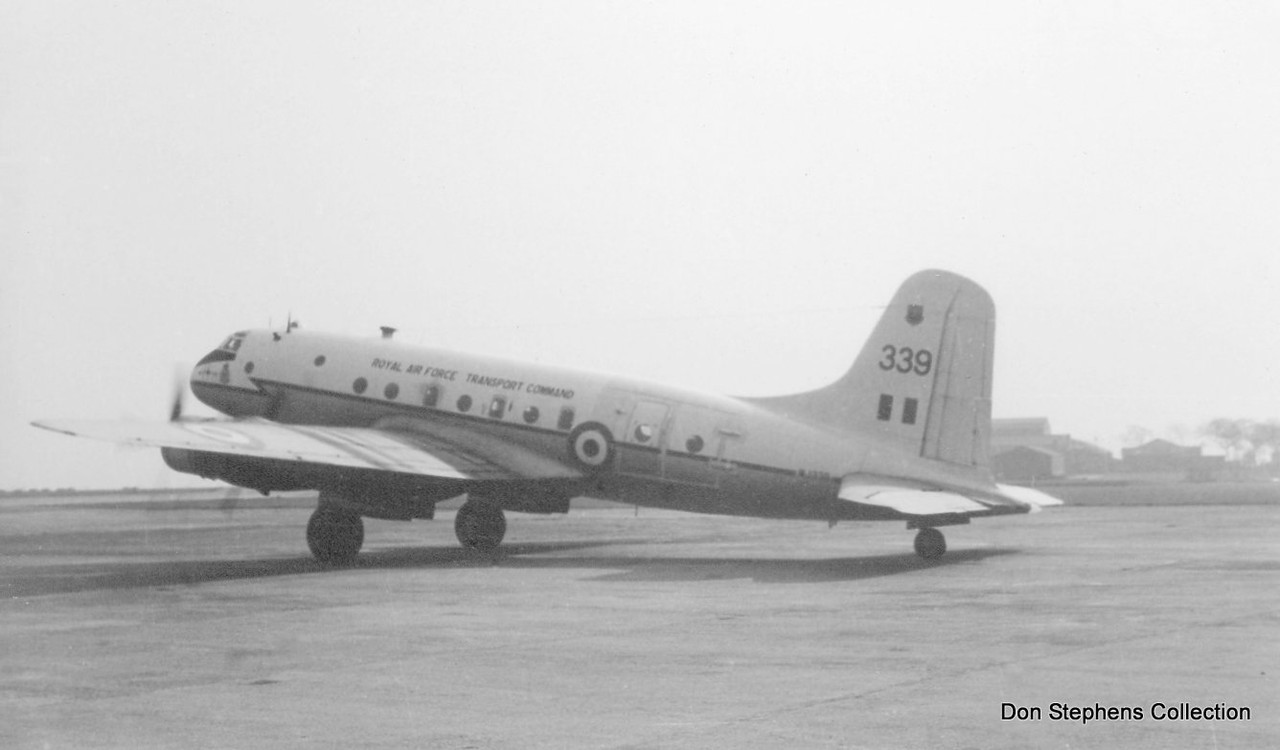 No visits recorded in the '50s, but WJ339 a Hastings C.2 did visit on 28th April 1962 and here seen on the Western Apron.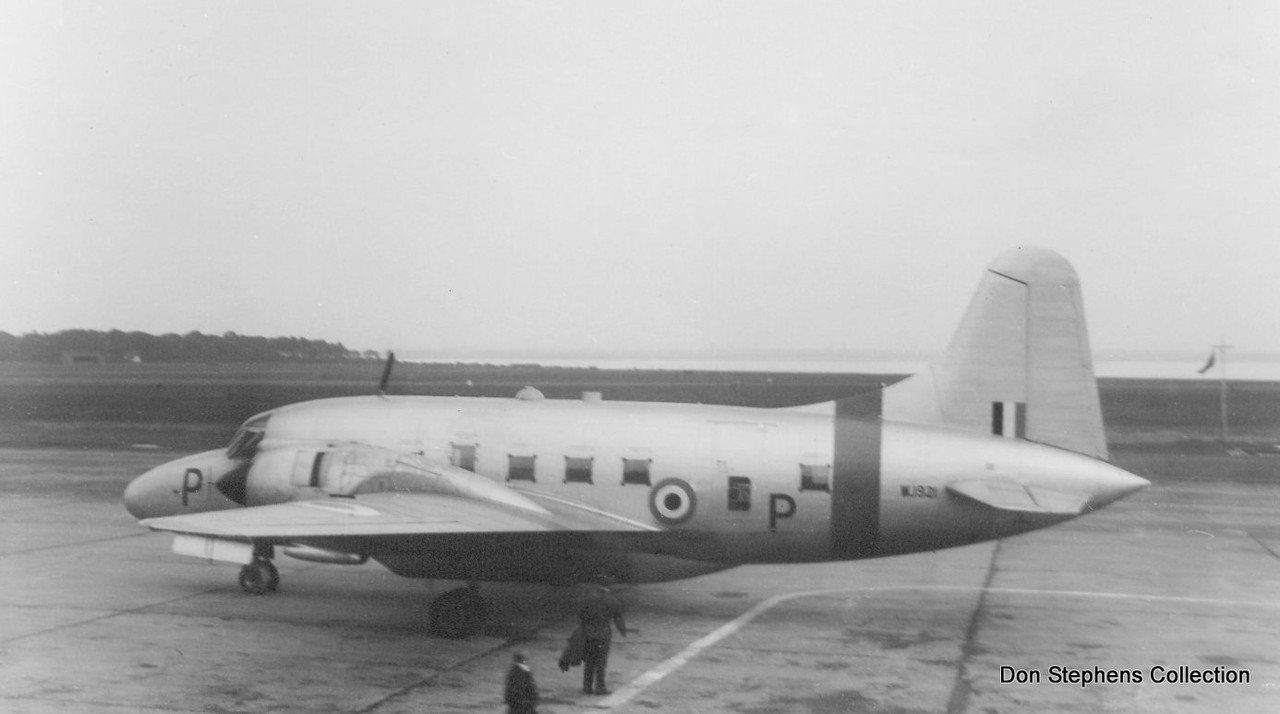 WJ921/P Vickers Varsity T.1 of No. 1 ANS called on 18th June 1953. I'm assuming that it something to do with the type of film used that has caused the yellow T-band to appear so dark/bright/bold in black and white? Or, as there is no similar band around the outer wings, is it a marking signifying No. 1 ANS?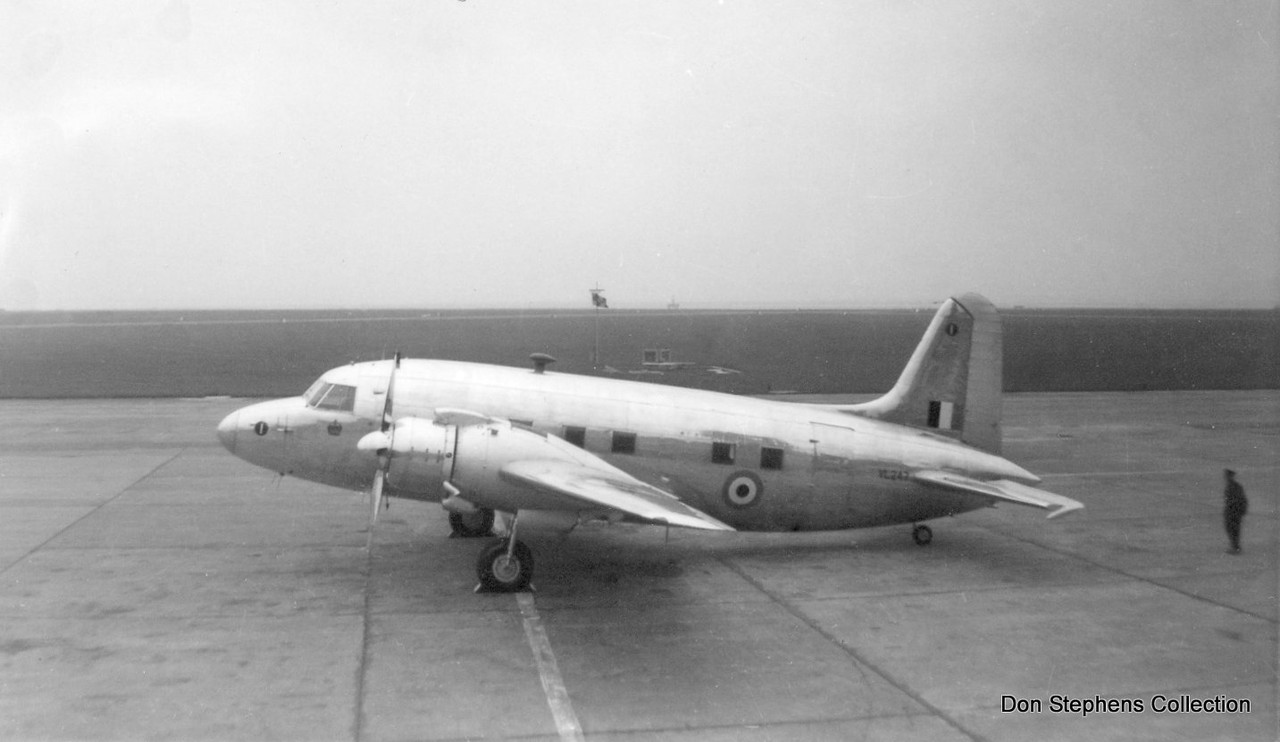 Very highly polished VL247 Viking visited 03.11.50 with the King's Flt and on 20.04.53 and 03.06.59 now with the Queens Flight.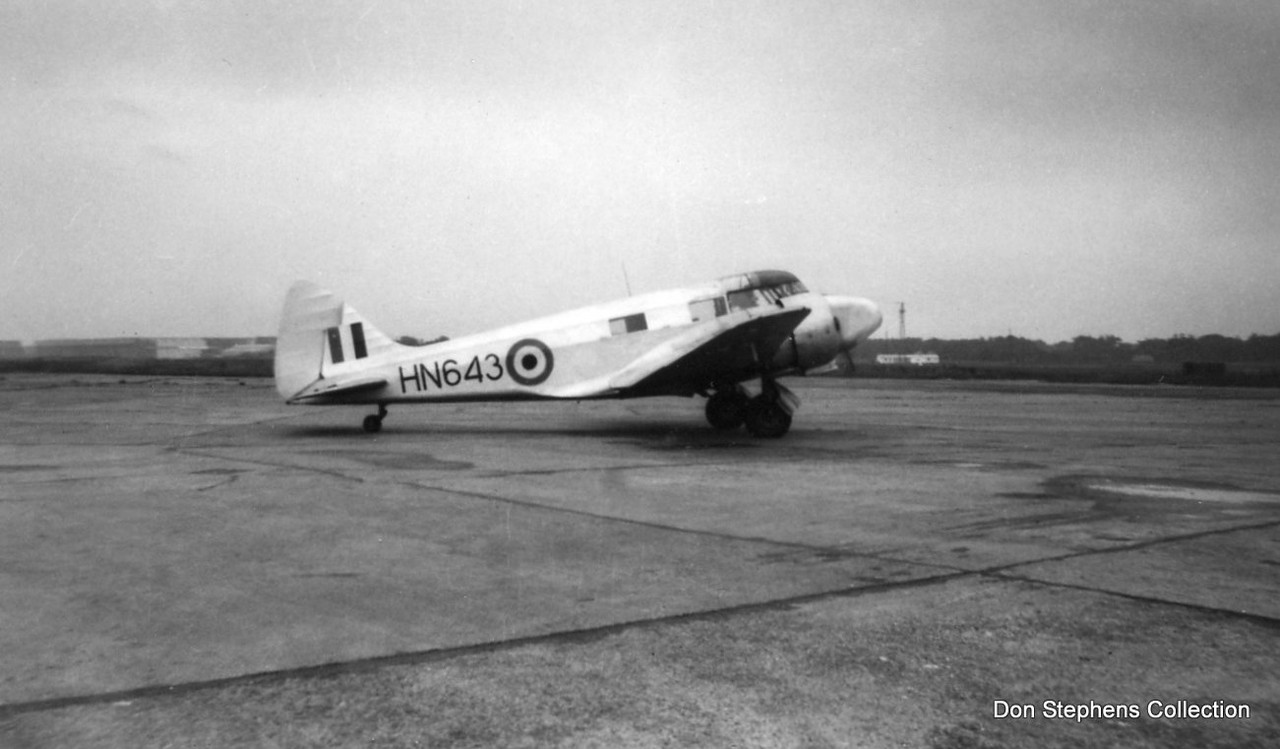 NH643 Oxford. Visit not noted in the Airport Logs, although in the early 50s visits by Oxfords were fairly common.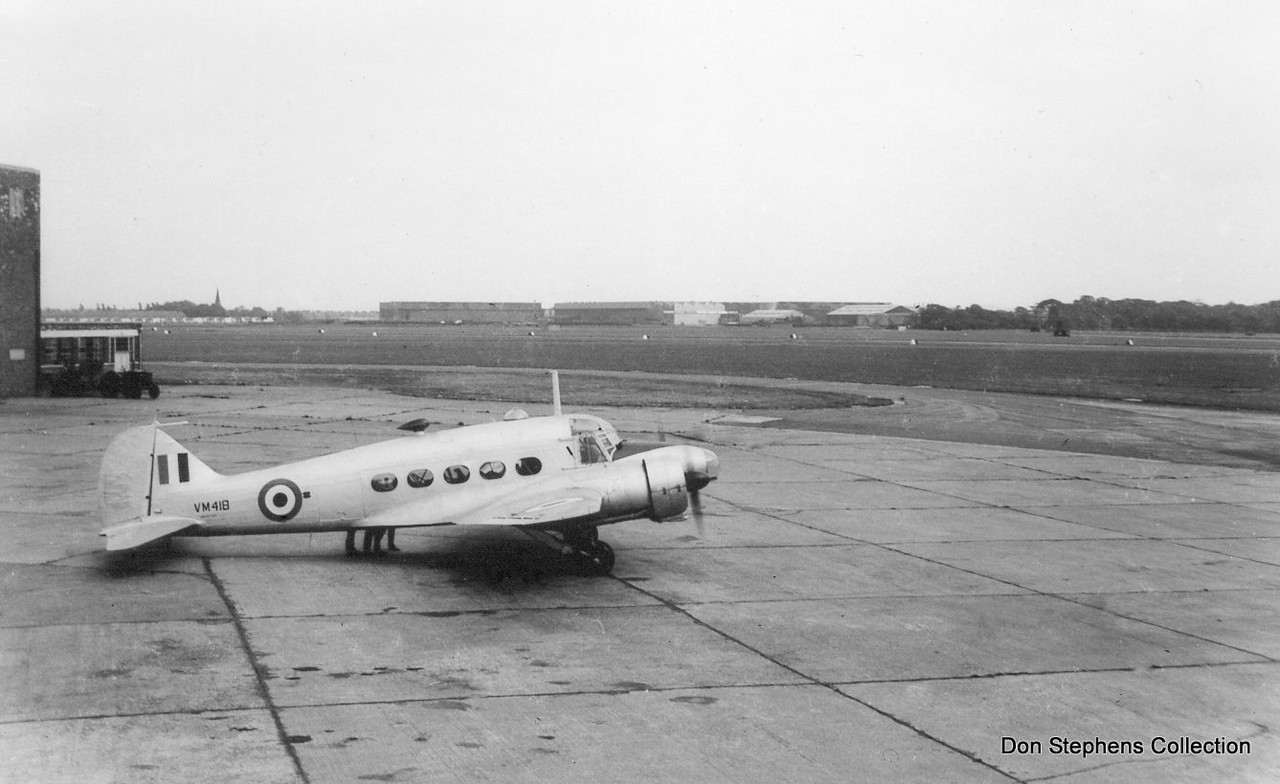 VM418 Avro C.19, just one visit recorded of this minimally marked C.19, on 20.04.51. The date confirmed by the Speke 'pre-fab' housing still on the land nearly under the 26 approach. The buildings showing up white on the image between the airport and the church spire.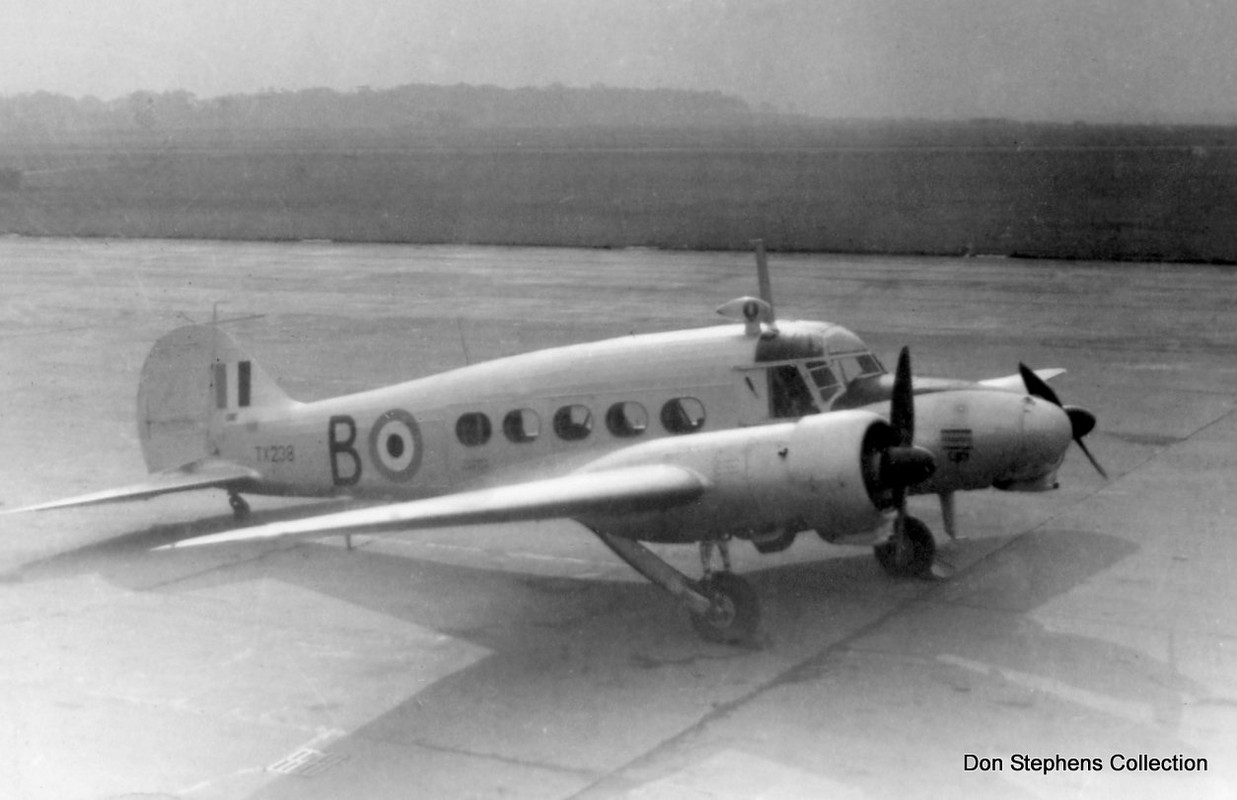 TX238/B, Avro C.19, a known visit was on Saturday 10th October 1953.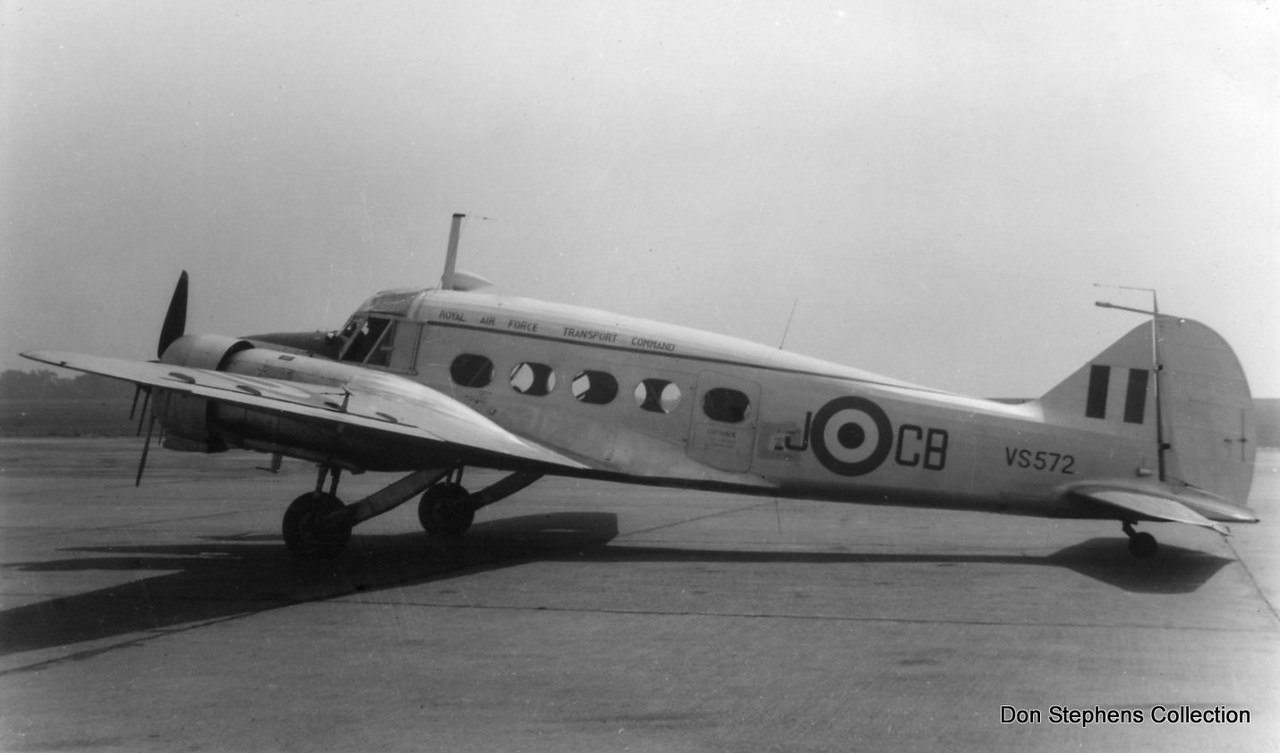 VS572 an Avro C.19 RAF Transport Command, coded J:CB of 31 Sqdn, alternatively known as the Metropolitan Communications Squadron. Confirm coded CB:J on visits 10.07.55, 13.07.55 and was using c/s MOAYJ on 21.01.56 and 24.06.56, showing it was still aircraft 'J' of 31 Sqdn.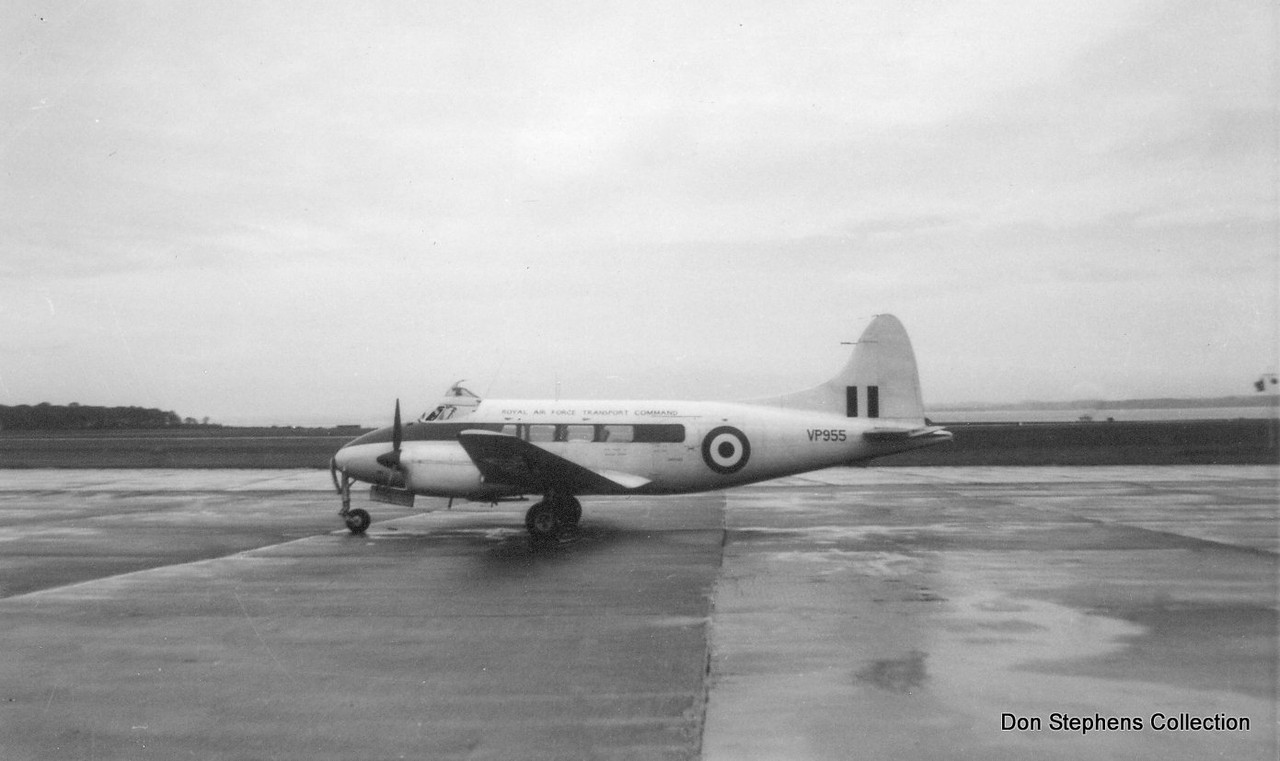 VP955 Devon C.1 RAFTC, only recorded 1950s visit 23.07.54, but did also visit on 16.12.61 with the King of Jordan.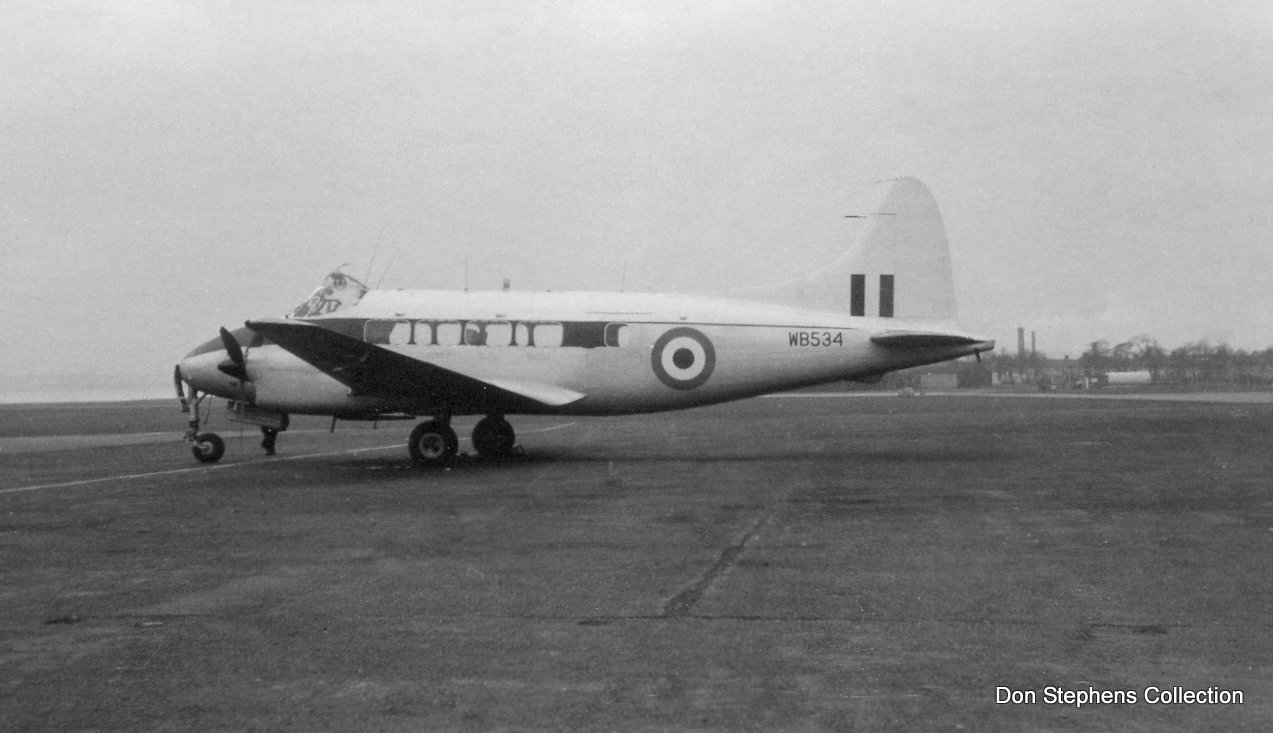 WB534 DH.104 Devon C.1. No Command titles on cabin top. An as yet untraced visit.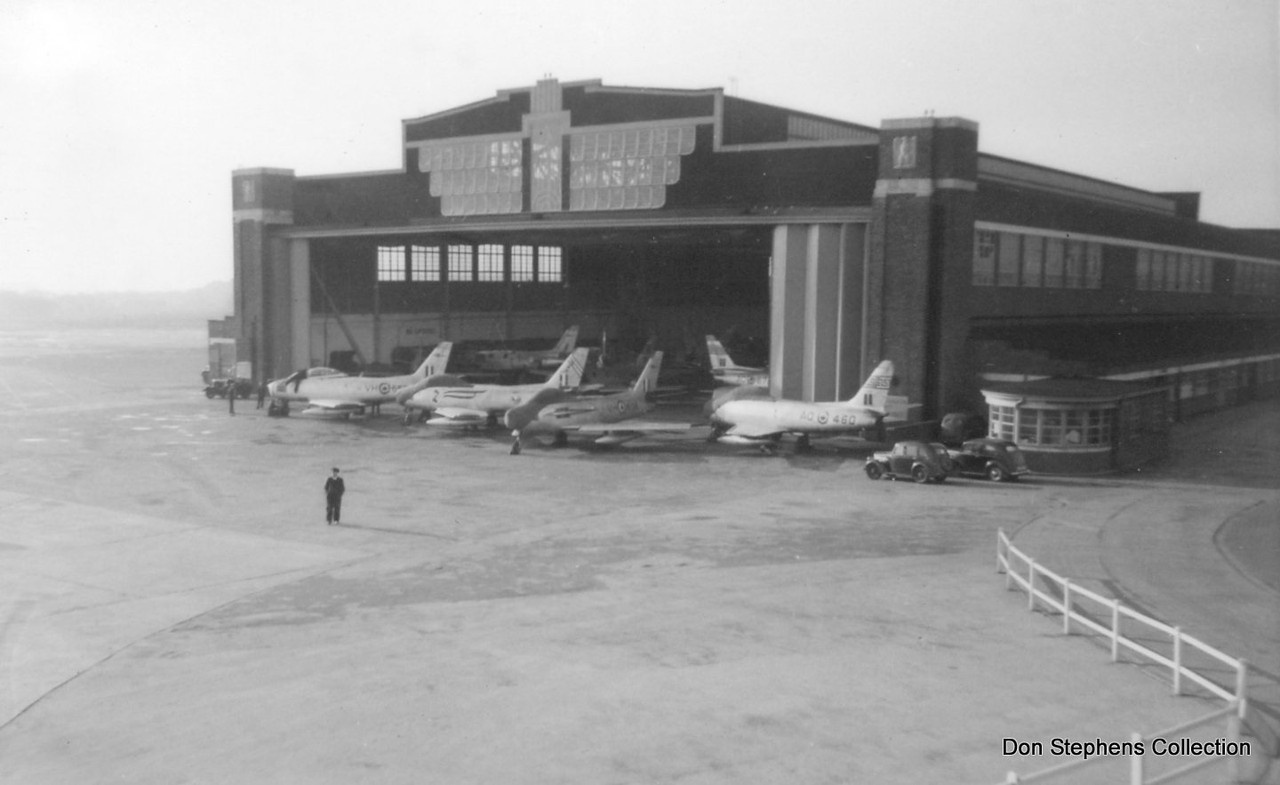 A classic view of Sabres outside No.1 hangar taken from the west end of the balcony with ex RCAF Sabres AQ-460, partial AQ-67· (inside), just '2', VH-65· (left). RCAF 19460 delivered in 17.03.54; to Ringway 12.07.56 and to Wiesbaden 15.09.56.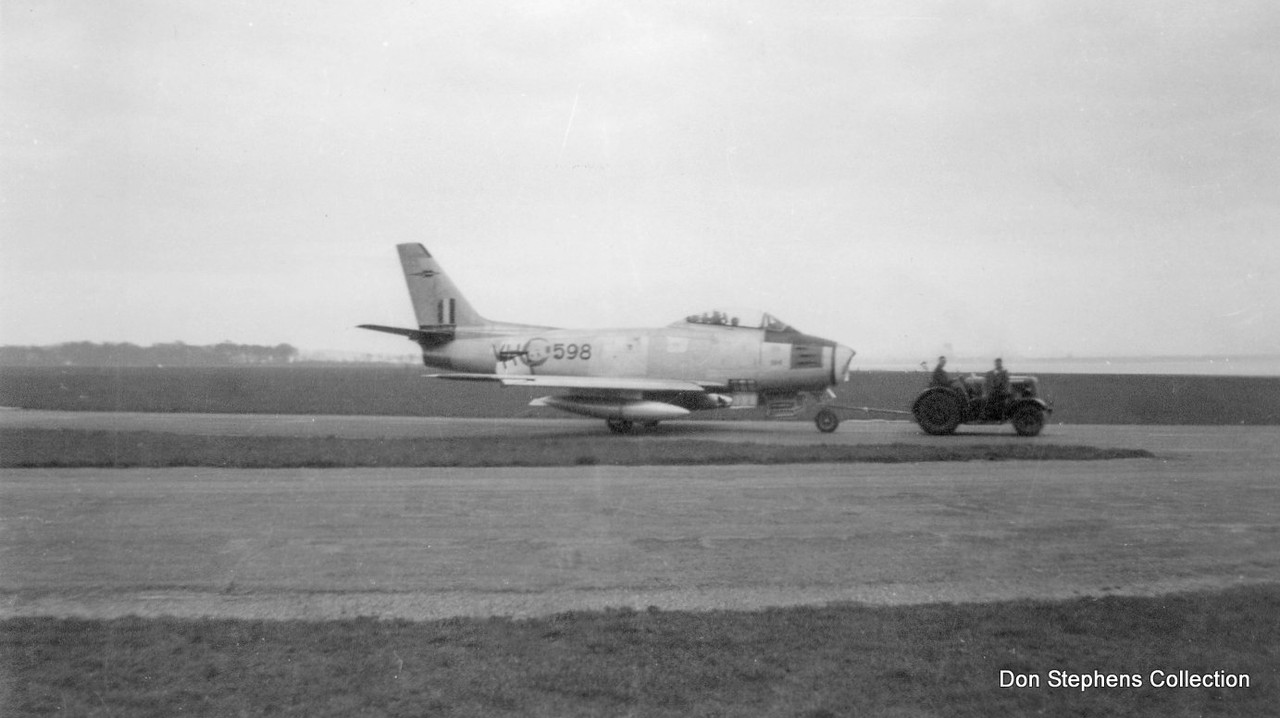 VH-598 Sabre. RCAF 19598 arrived 05.03.54 from Baden-Sollingen, WG. This shot is likely some time much later as the aircraft is either being moved between hangars or more likely being returned from engine runs.
BT-164 RCAF Sabre, 19164 no record in the Visiting Aircraft Logs, however Alan Scholefield in 'Rapide' magazine records this as positioning Ringway to Speke 6.9.55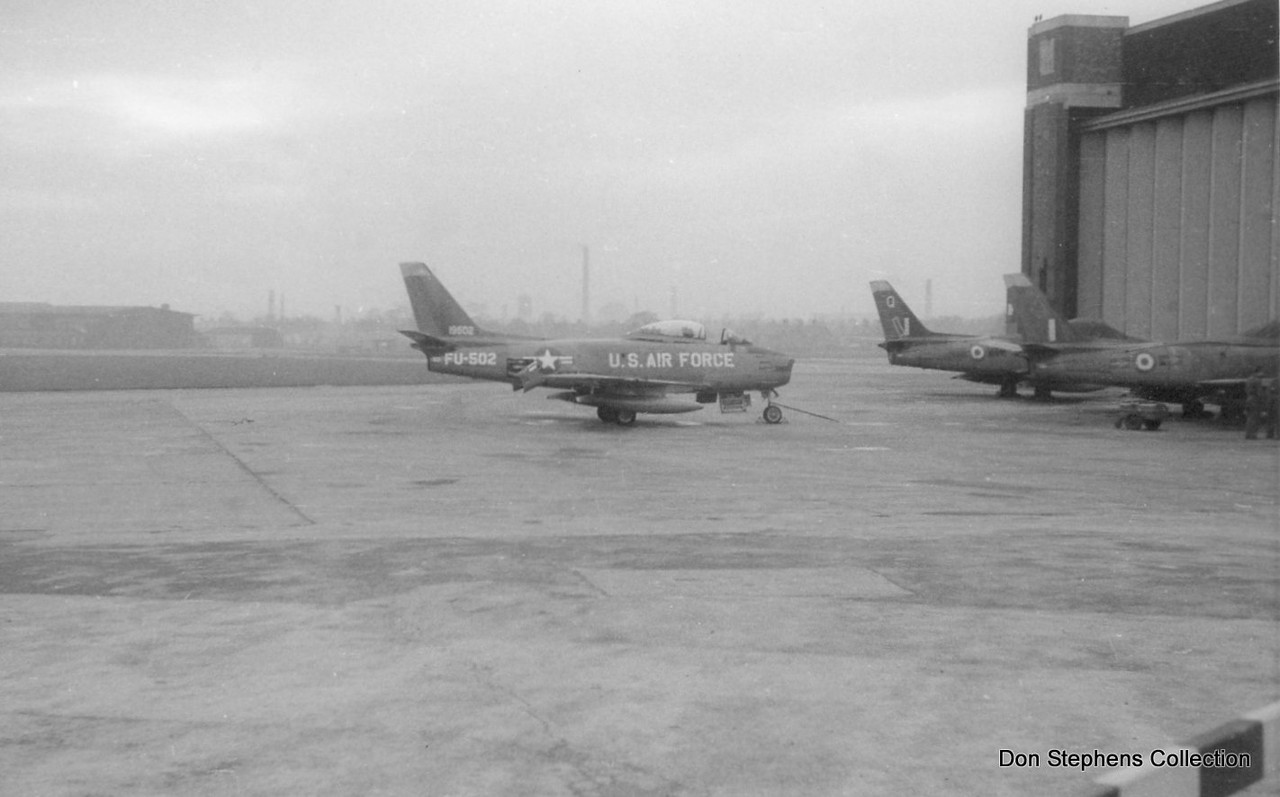 Repainted and ready to depart, USAF Sabre with buzz-code FU-502, 19502. Arrived 06.07.55 as XB595/W from 26 Sqdn, test flight as XB595 08.01.56, dep to Ringway as FU-502 28.03.56. The RAF Sabre with tail code 'Q' not traced.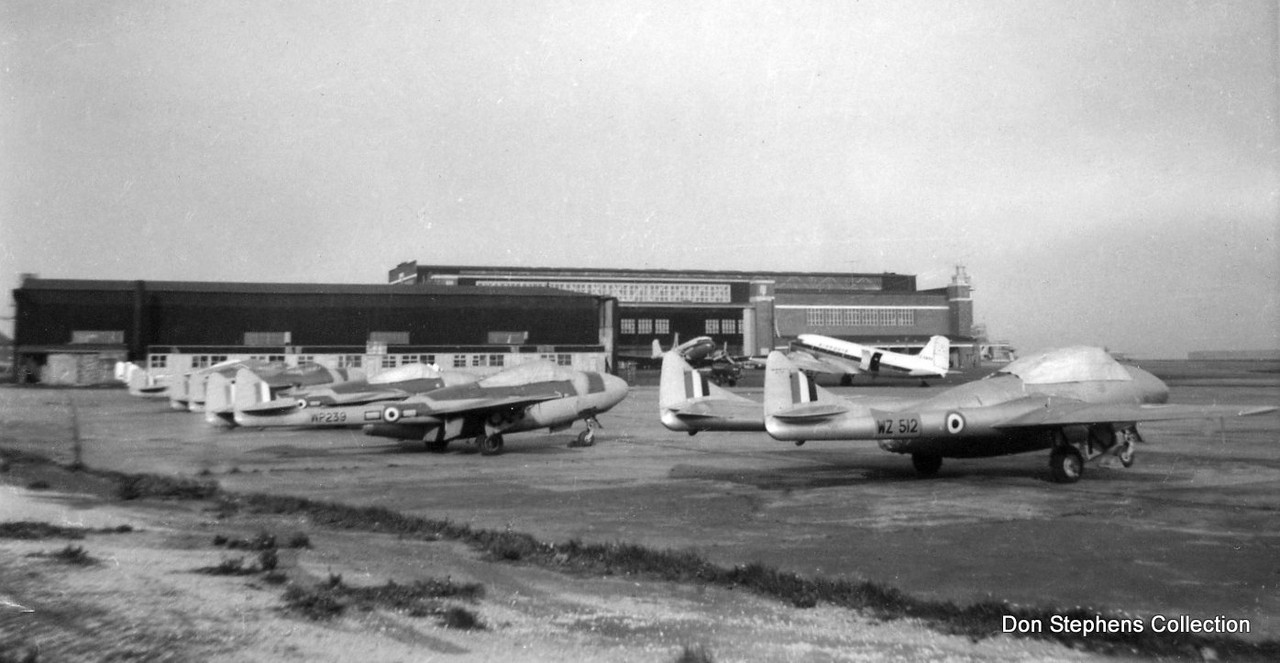 The Vampire T.11 was one of a pair that were delivered to Airwork in error. WZ512 arrived on 23.4.54 and still here a month later, the other WZ498 is at the end nearest hangar 4. The 3 Venom NF.10s were part of a contract to convert these into Venom NF(T).10. Neither WP239 or WP242 next to it feature in the incomplete Airport Logs. The pair of Dakotas are Starways aircraft as at the time Starways occupied Hangar No.3.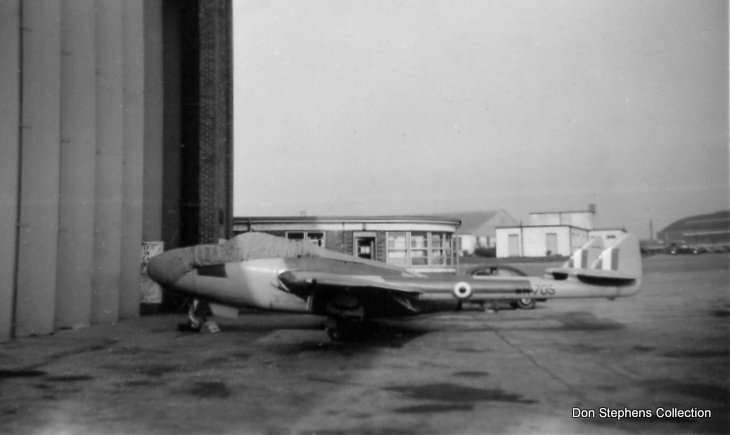 WM705 Vampire NF.10, delivered to Airwork Speke 08.04.54, later noted on a test flight after conversion to a Venom NF(T).10 27.06.55 and departed 29.06.55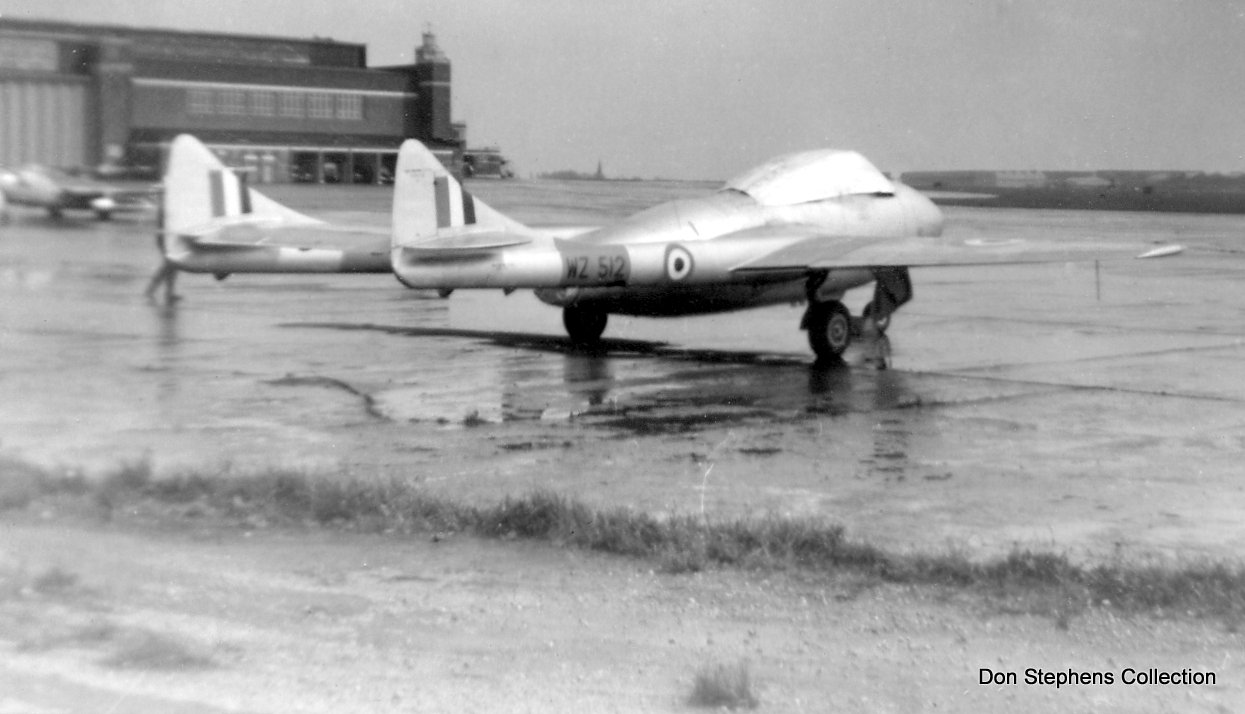 WZ512 Vampire T.11 - one of a pair, delivered to Airwork in error. Arrived 23.04.54 and recorded to still be here 20.05.54.
TW539/M Auster AOP.5, a known visit was on Monday 19th July 1954, 663 Sqdn, R Aux AF and based just across the river at RAF Hooton Park.