Post by viscount on Oct 11, 2022 21:40:03 GMT 1
MUSEE DE AERONÁUTICA Y ASTRONÁUTICA, CUATRO VIENTOS, MADRID.
PART ONE
This Museum, formerly known as the Museo del Aire, has over 150 aircraft on display covering not only Spain's considerable aviation heritage, but further afield too. I have been to this Museum before, a February 1995 day-trip from Liverpool on an Airtours A.320, a visit that featured a 'white knuckle' ride across Madrid in a two taxi race! I'll commence this image heavy thread with just some of the many aircraft exhibited outside. While likely rusting is not such a big issue as it is for aircraft parked outside in Britain; paint bleaching, rubber and perspex degradation are in Spain, as Madrid gets both the heat of summer with snow and frost in winter.
A big post to start off, and eventually a list of everything we noted. The Museum is open Tuesday to Sunday, 10am to 2pm. Four hours was tight, we only just made our way around in that time! Being a national collection and overseen by the Air Force, the entrance is free. A large place and did not appear to be very busy - until closing time, when it was surprising how many people were all heading to the car park at the same time!
So, sit back and see how many types you can identify as you scroll though. I'll provide a running commentary to keep you informed though.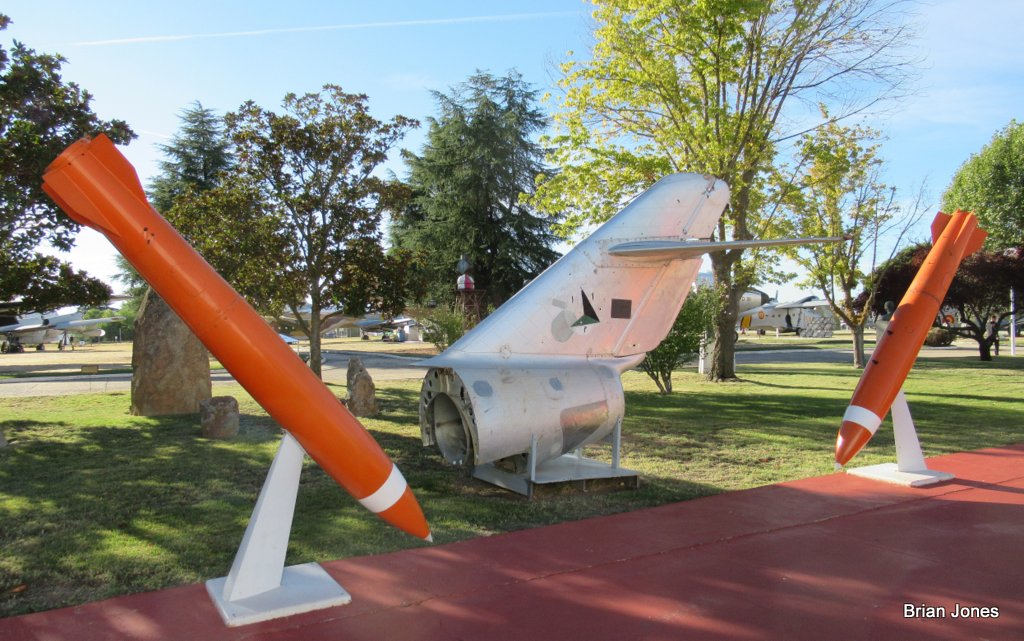 Not quite sure what this arrangement just inside the entrance was all about but makes creative use of a Mig 15/17 tail and a pair of bombs.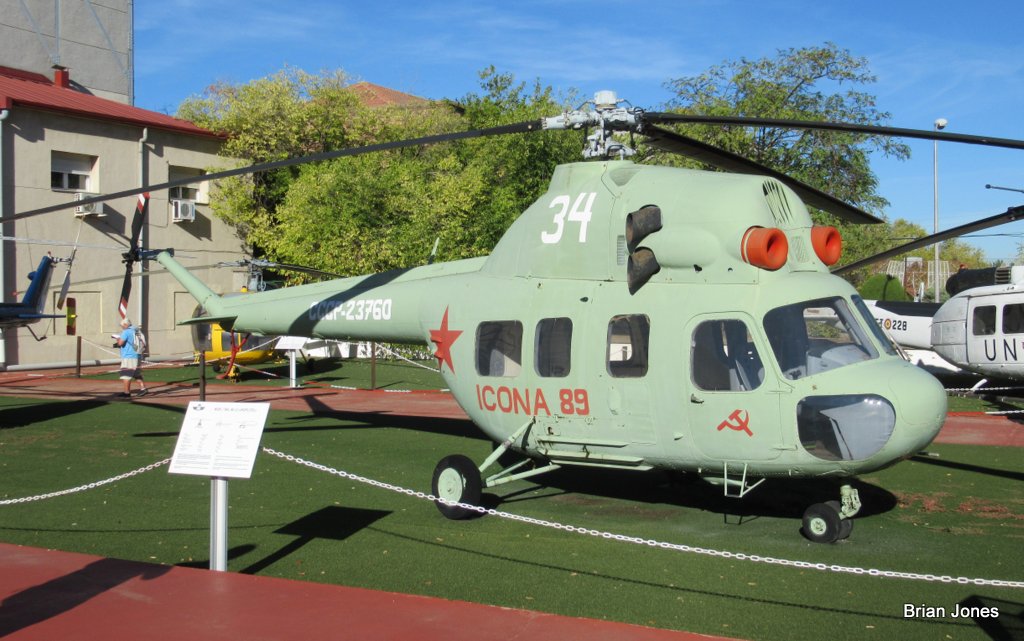 Spain considers herself to be one of the birth places of rotary aviation due to the pioneering work of Cievra (more of that in a later post). This Mil-2 in Soviet scheme is also close to the entrance.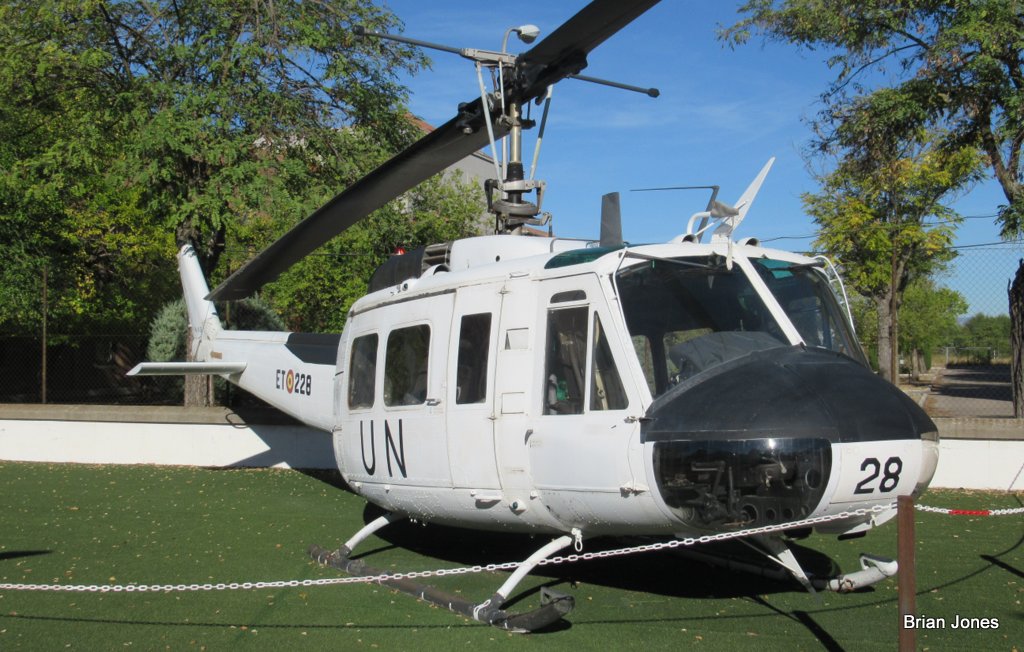 A design that did see considerable service in Spain is the Bell UH-1H Iroquois, there being several in different areas of the museum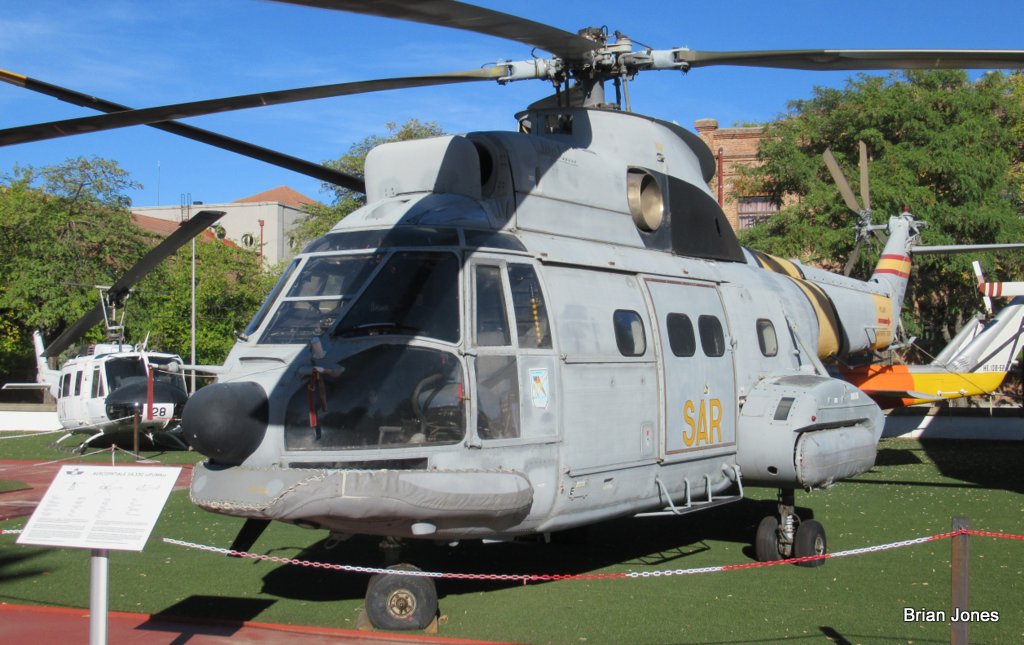 Likely a fairly recent addition to the collection is this SA.330L Puma which served in the S.A.R. role.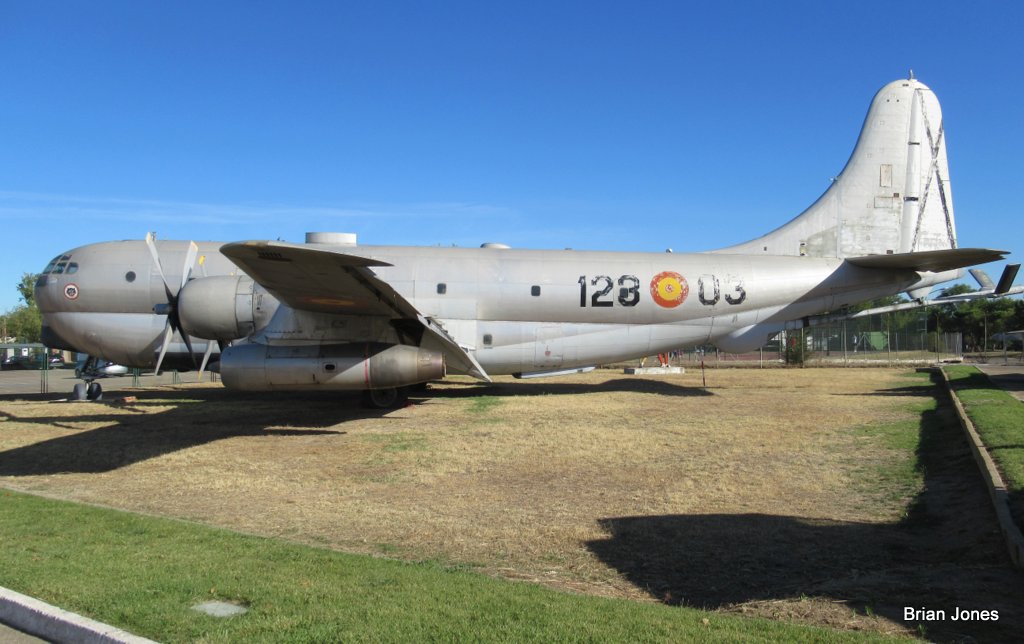 The great thing about Museums that have plenty of space and are at the edge of an active Air Force base, is that they can obtain and display aircraft of considerable size. This Boeing C-97G Stratofreighter air-to-air tanker is one such aircraft.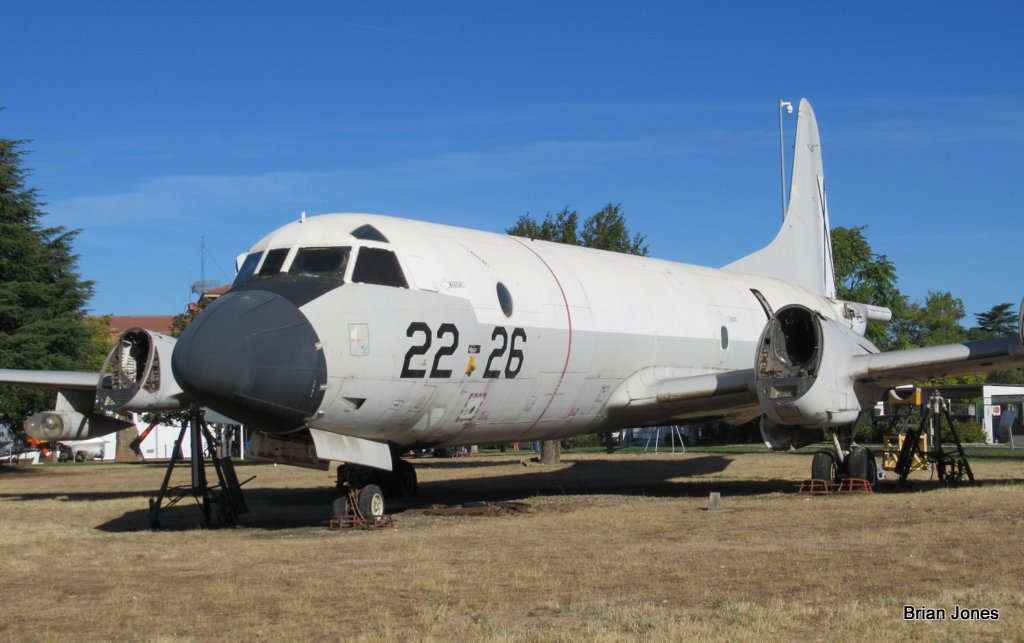 Another is this P-3A Orion. Although initially exhibited held up on wooden trestles, this aircraft has remained engineless for a considerable number of years. However out on the airfield is a further complete retired Orion and a Hercules, which could both, ultimately be earmarked for the Museum. There is plenty of space available.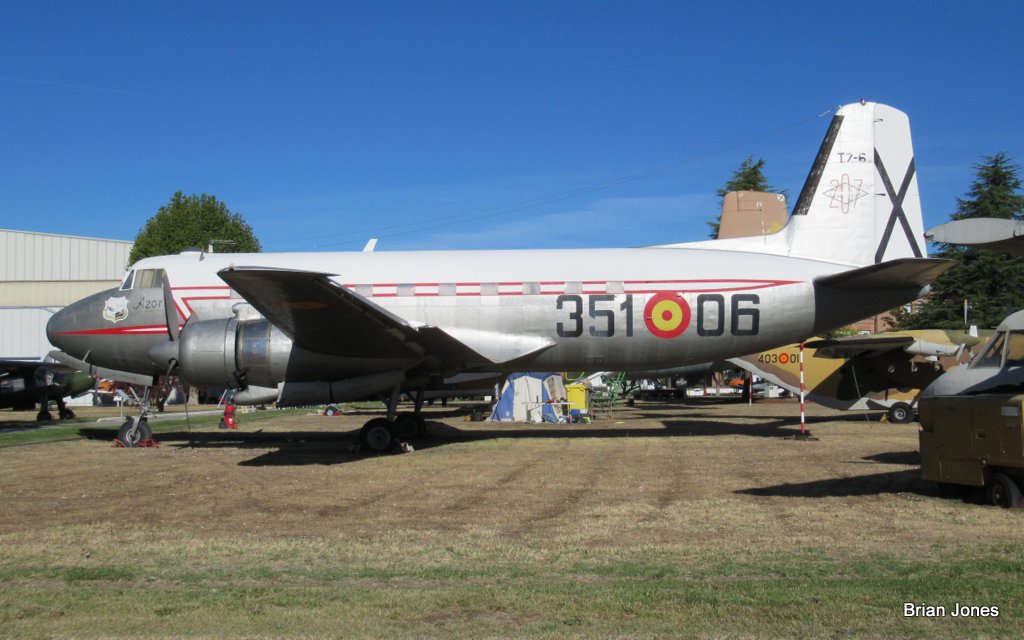 In the 1950s General Franco encouraged a home aviation industry, which produced aircraft primarily for the military, but also some with civilian operators in mind. Some were licence built others Spanish designed, one such design is the CASA 207 Azur - looking design wise rather like a collision between a Convair 240 and a C-47 Dakota, it fell short of both in performance terms and was produced only in small numbers.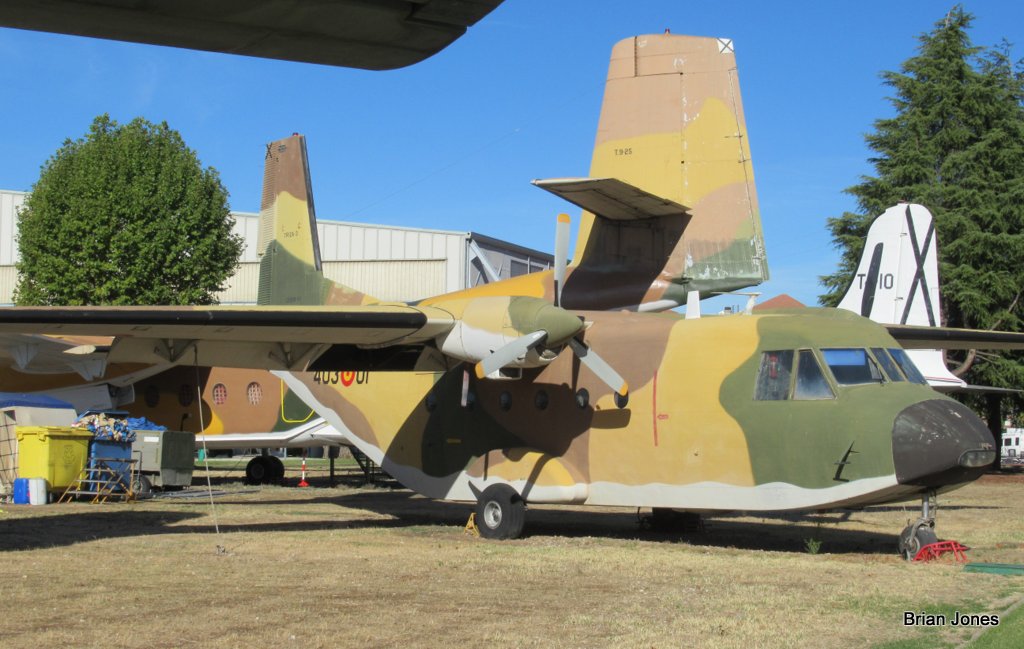 More recent, and more successful on the world stage is the CASA.212 Aviocar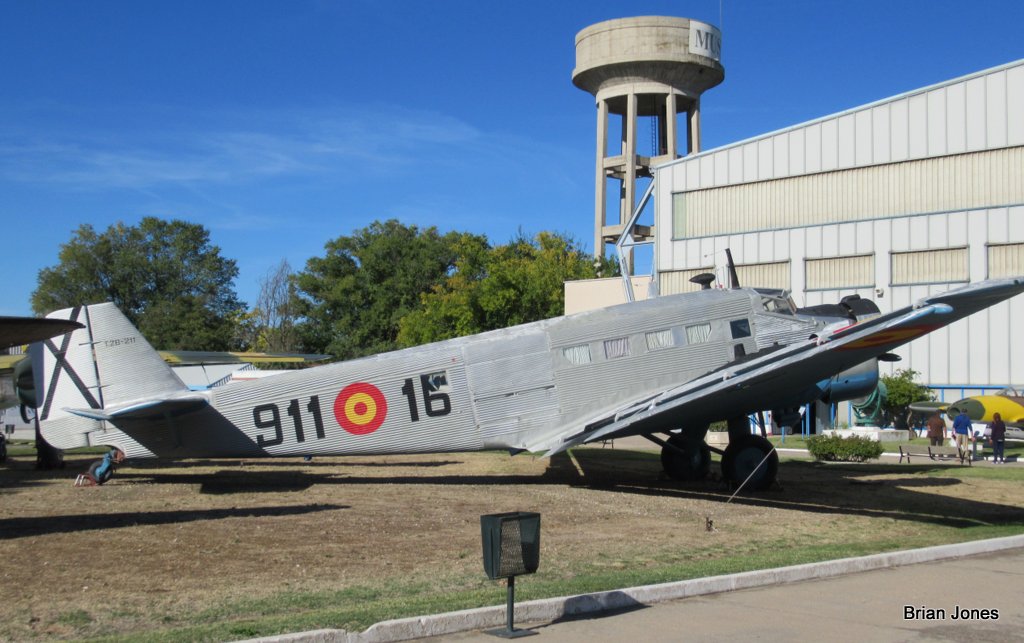 Going back further this CASA 352 is a licence built Junkers Ju.52. The museum has 2 on external display and both have clearly been worked on fairly recently.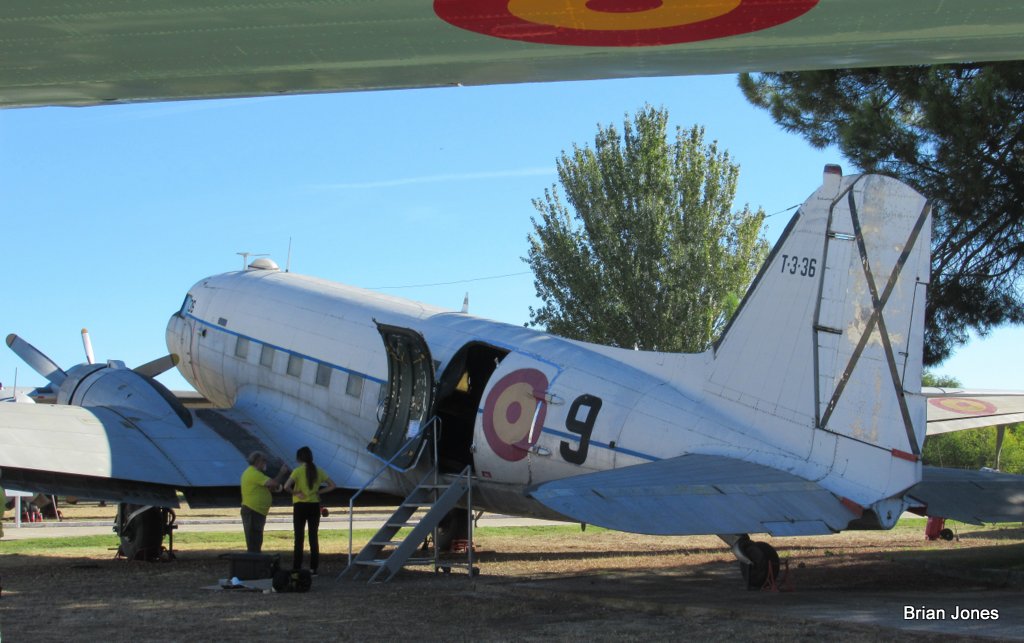 The Douglas C-47A Dakota served, at one time or another, with nearly every air force in the world. No surprise to find one here, nestling in the shade of a large tree.
In the 1950s Spain received military help from the USA. This being a Douglas C-54A Skymaster. Such transports were important to link the islands of the Canaries and the Balearics to mainland Spain and Madrid.
Perhaps less familiar is the DHC-4A Caribu.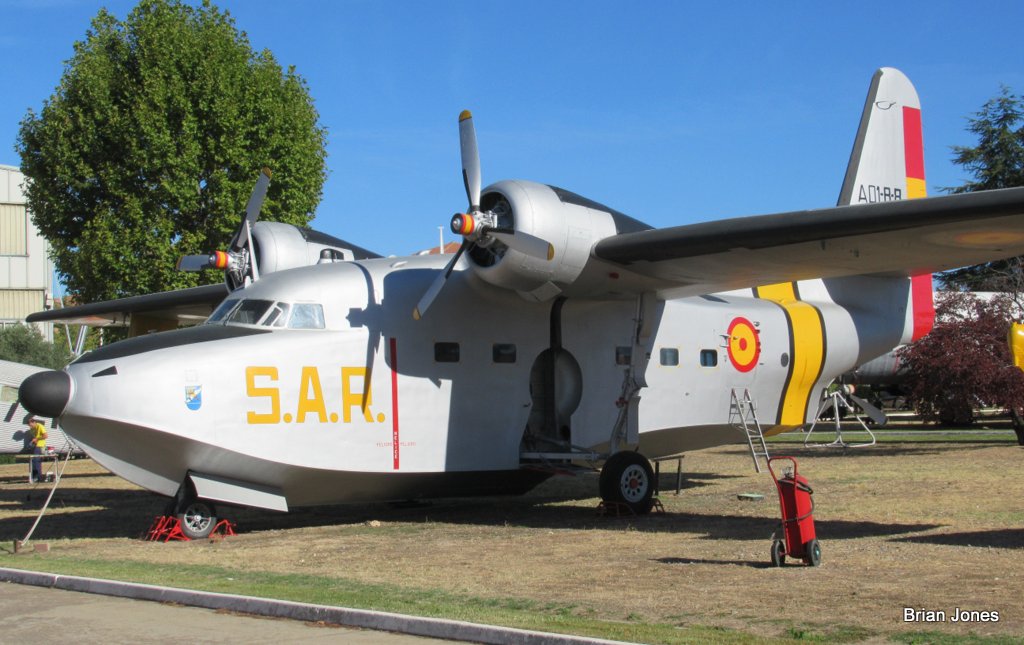 With an extensive coastline and a number of large islands, flying boats and amphibians have played a role from the earliest days of aviation in Spain. So no surprise that there are a number of amphibious aircraft represented. This being a Grumman HU-16B Albatross, marked for S.A.R. duties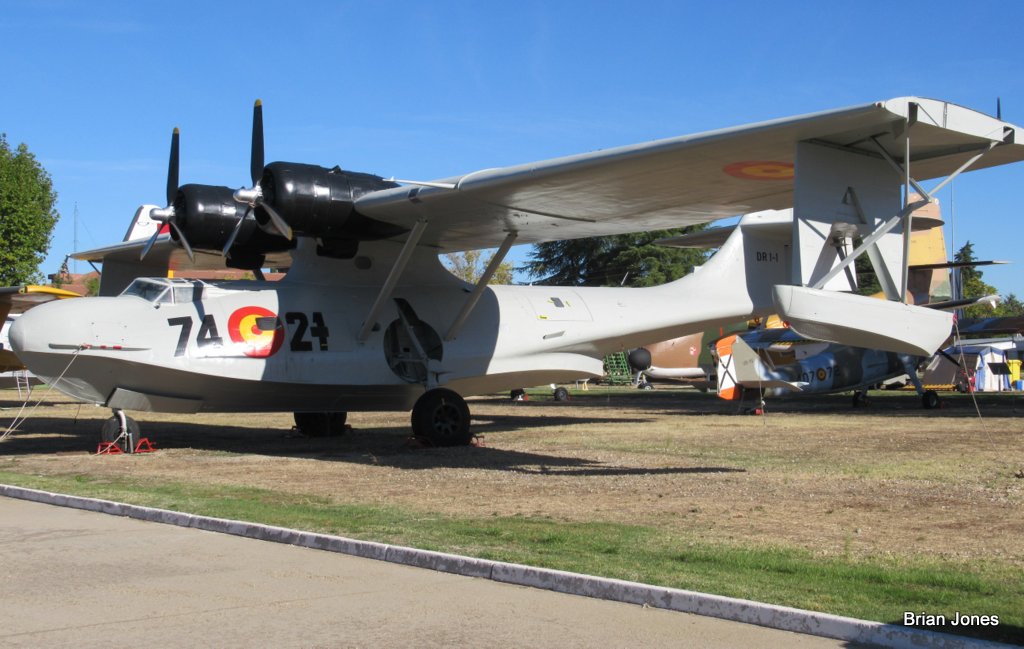 From the previous decade comes the Consolidated PBY-5A Catalina. A number were used in the fire-fighting role. This aircraft has also recently been worked on.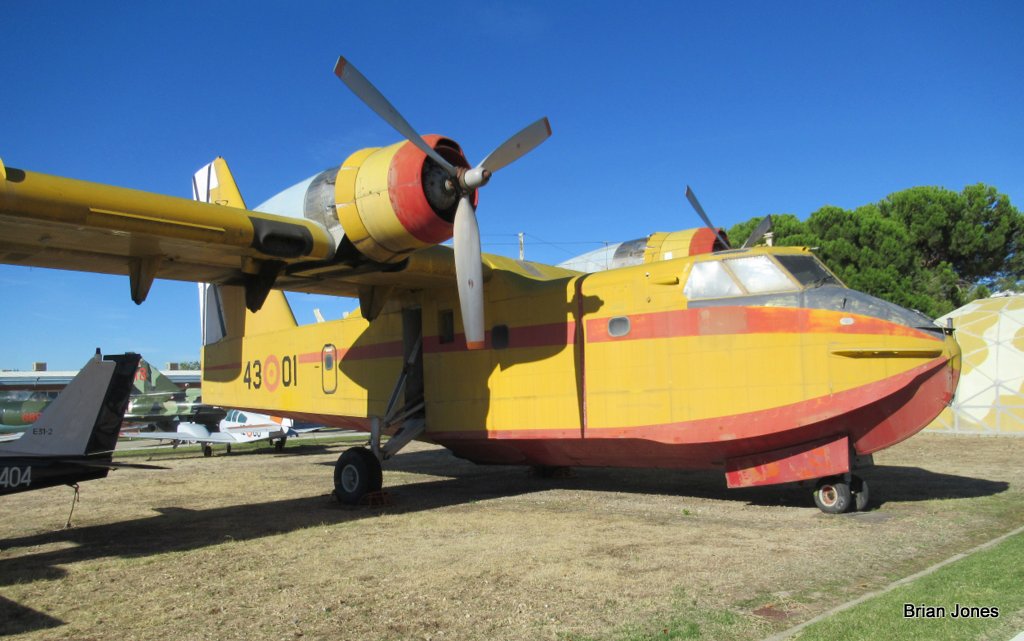 A little newer is this, now retired radial piston engined Canadair CL.215 water-bomber. The more recent turbine powered CL.415 are very much still in service as fire-bombers with likely many years of service ahead of them. Looking somewhat sun-bleached, I'm sure that this exhibit must be on their get-around-to-it list.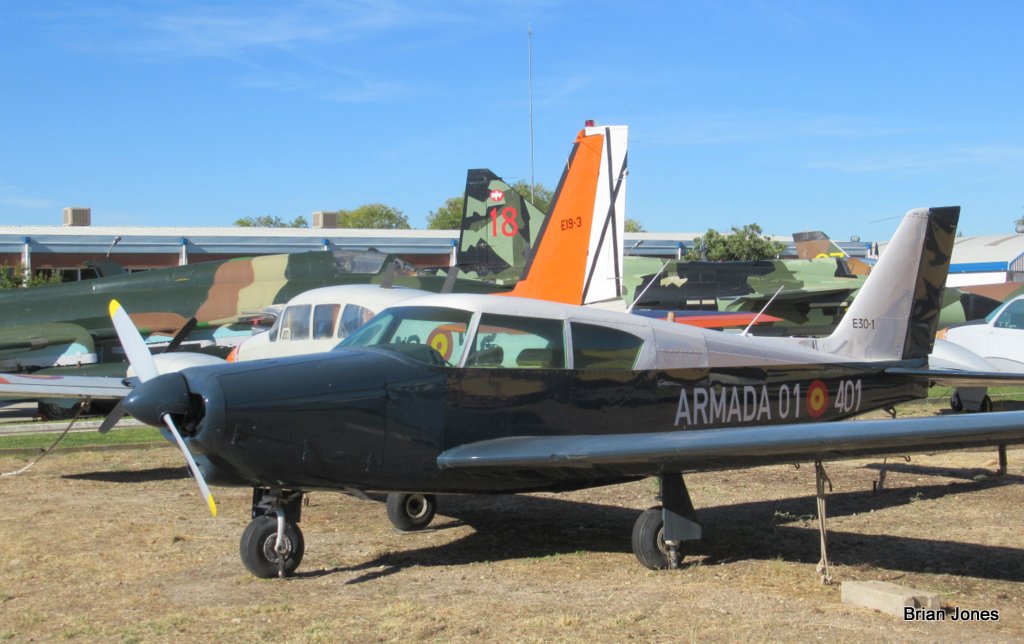 I do like museums that go beyond the glamour of fast jets, the might of the bomber and size of transport and maritime aircraft to include well-kept examples of much more mundane 'Cinderella' types. Good to see well-presented examples of a Comanche (above), Twin Comanche, Aztec, Baron, Navajo, Do.27 and Do.28. Liaison and training types are just as much part of aviation as the front-line types.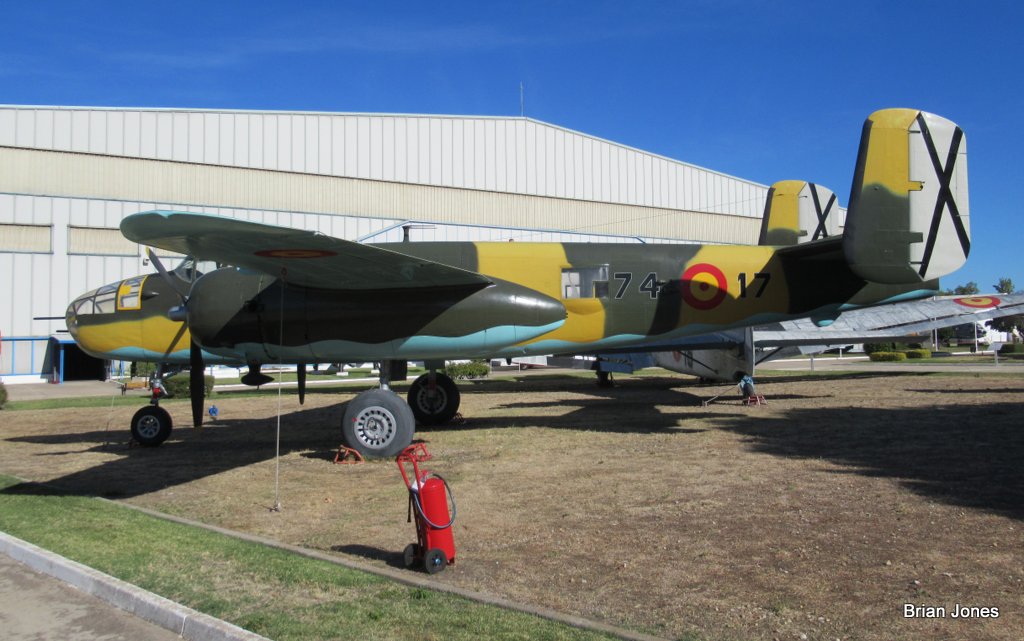 A type that did not have a major role in the Spanish Air Force, indeed this example I don't think was actually ever a Spanish Air Force aircraft, is this North American TB-25N Mitchell.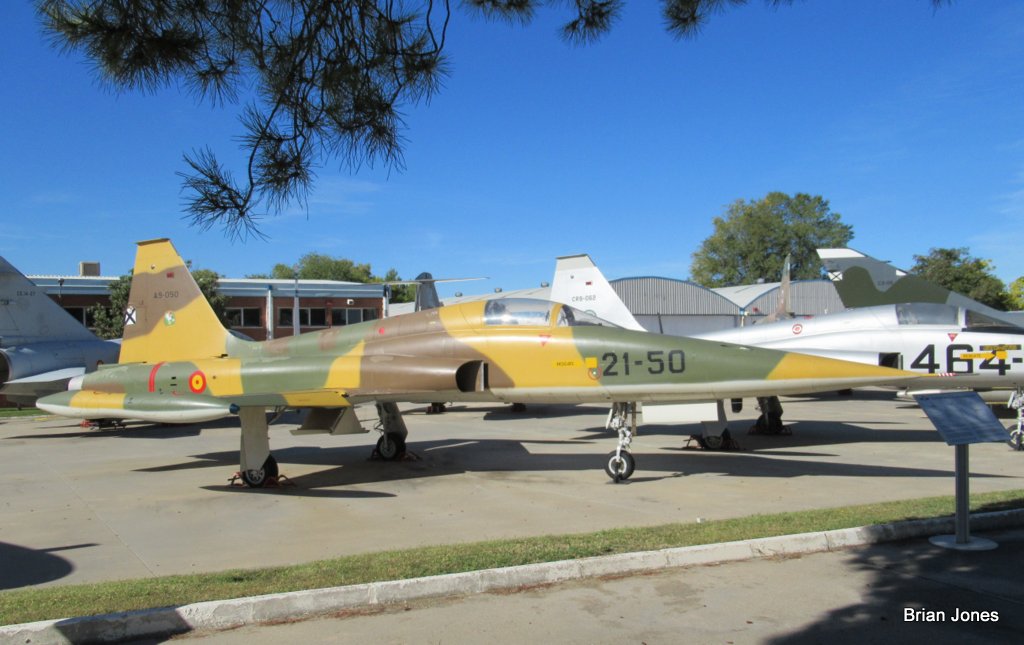 A licenced built type that served the Spanish for many years in a variety of role was the Northrop SF-5A 'Freedom Fighter' (interestingly the well written information boards did not actually quote that name, presumably ignored as Spain was a dictatorship at the time). The silver aircraft beyond is an SRF-5A photo-reconnaissance variant.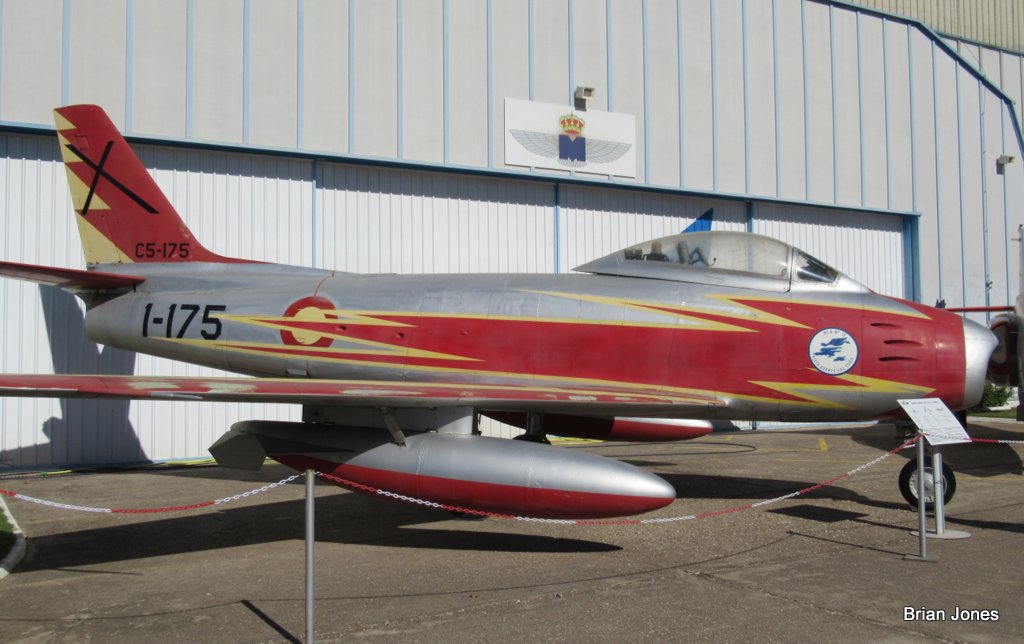 First jet to be used in the fighter role was the North American F-86F Sabre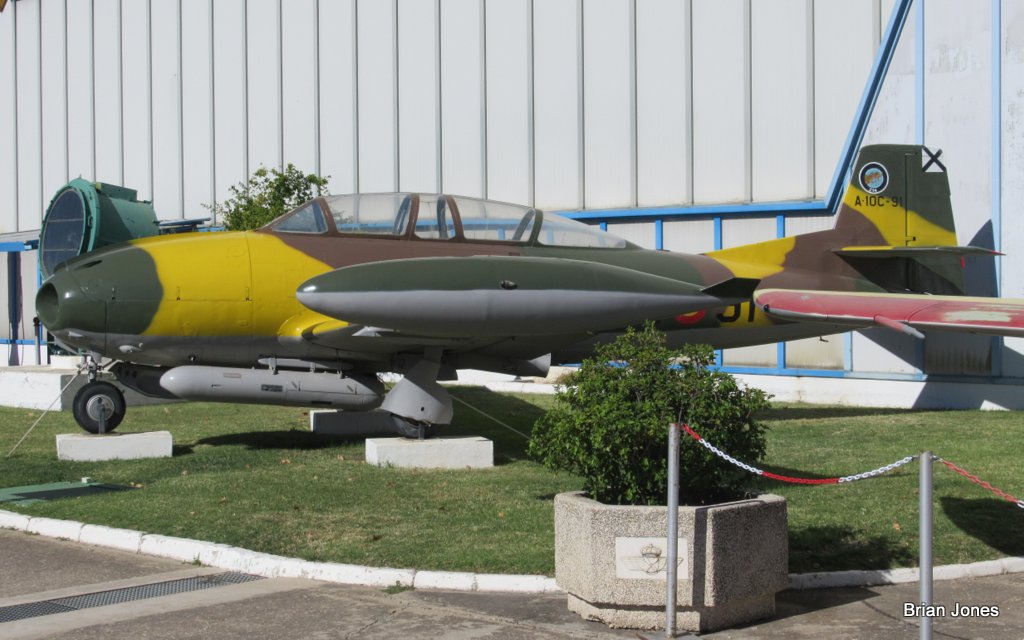 Spain also operated the home-produced, ground attack, Hispano HA.200 Saeta and this later version, the HA.220 Super Saeta.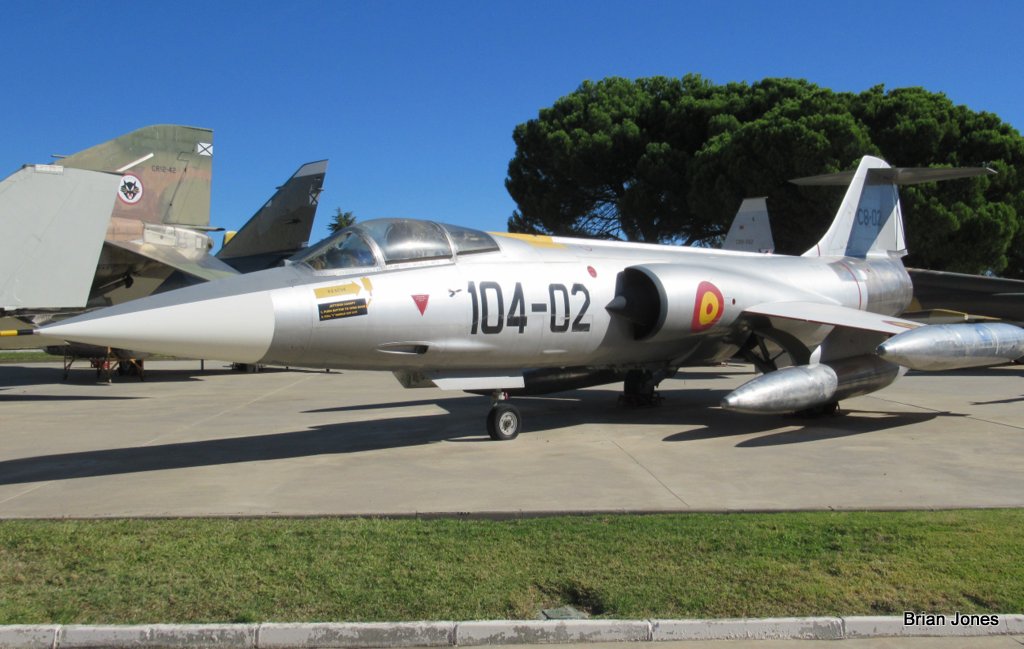 Spain entered the supersonic age with the F-104C Starfighter, supplied from USAF stocks. The expert will note that this is actually a F-104G Starfighter that operated with the West German Air Force before donation to the Spanish museum. Looks good in shiny metal and Spanish markings in the sunshine.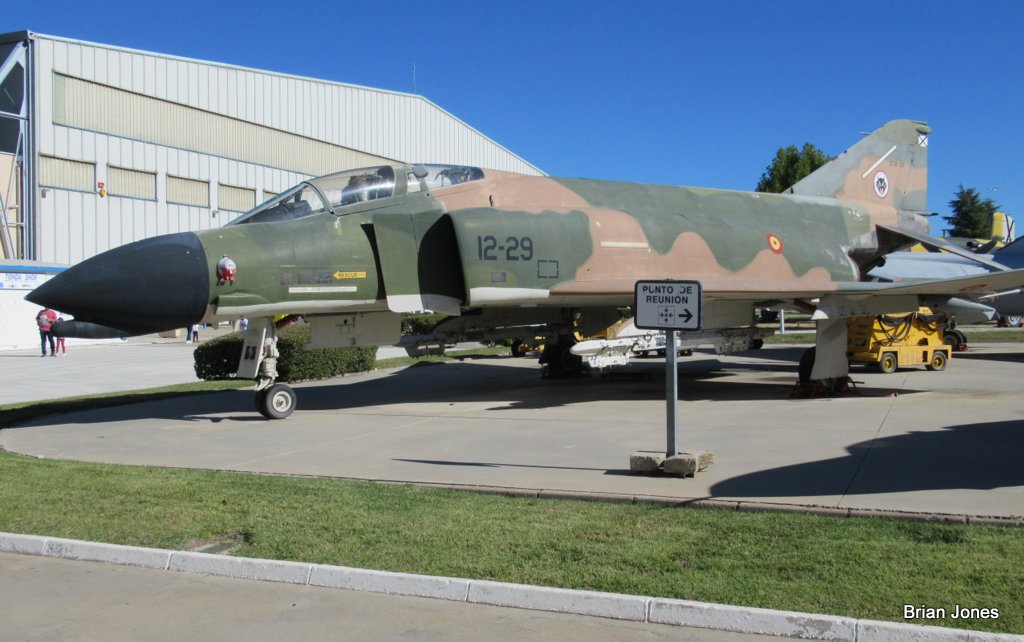 Like many European Air Forces, Spain moved on from the Starfighter to the multi-role F-4 Phantom. Spain received a number of F-4C and RF-4C aircraft second-hand from the USAF. Both variants are on display, this being the F-4C Phantom II.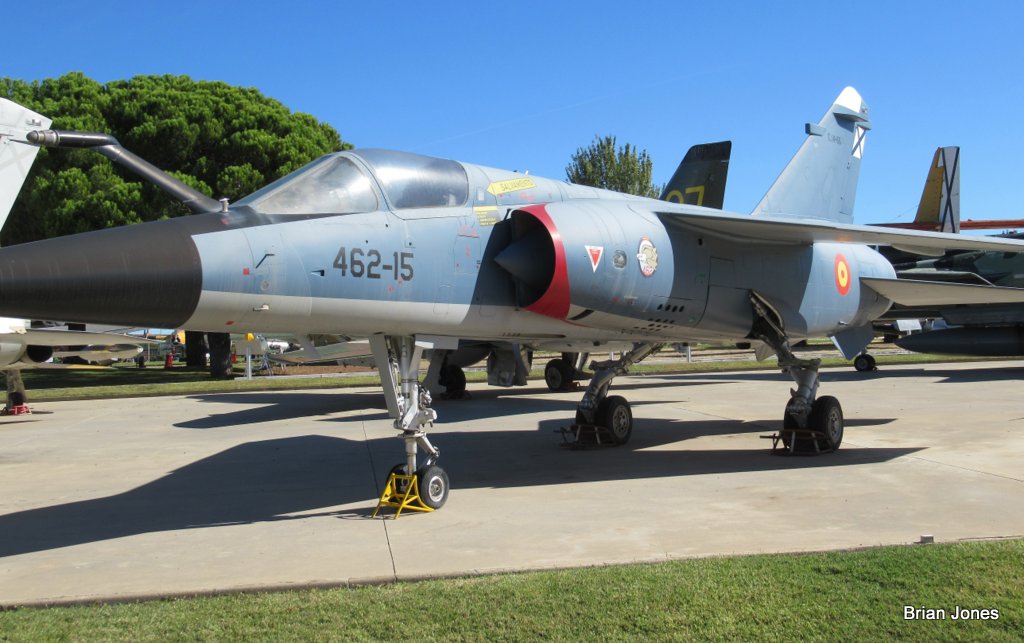 Spain then moved on to use the Dassault Mirage III and the Mirage F.1. This is one of several F.1s on display.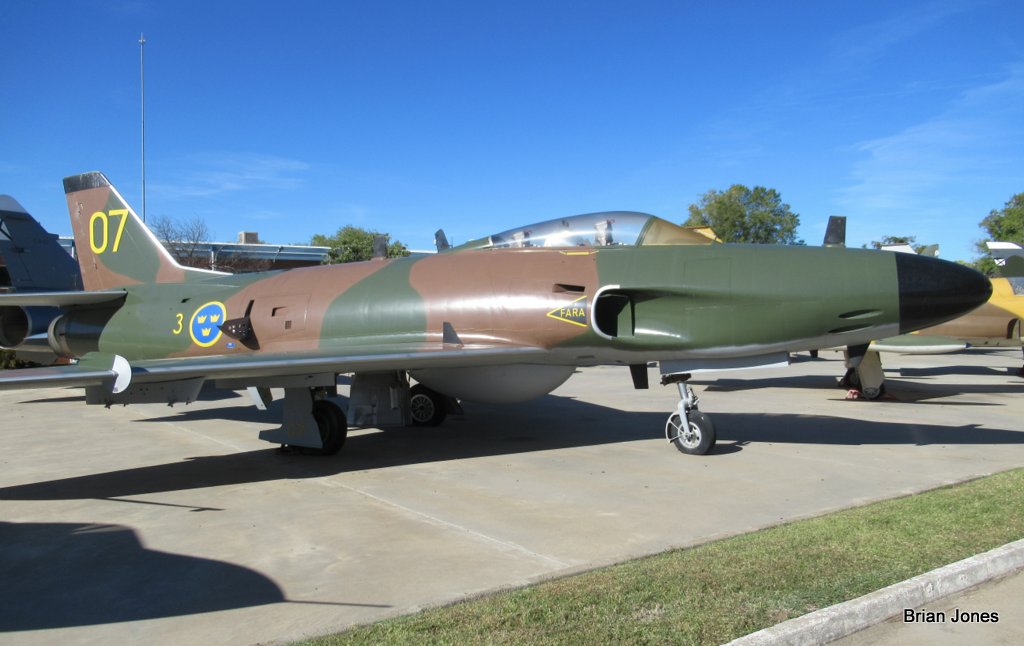 Gathered together in one corner, are a number of jets never operated by the Spanish. All are well looked after and have clearly had recent repaints. This, likely unfamiliar shape, is a Swedish Saab J-32E Lansen.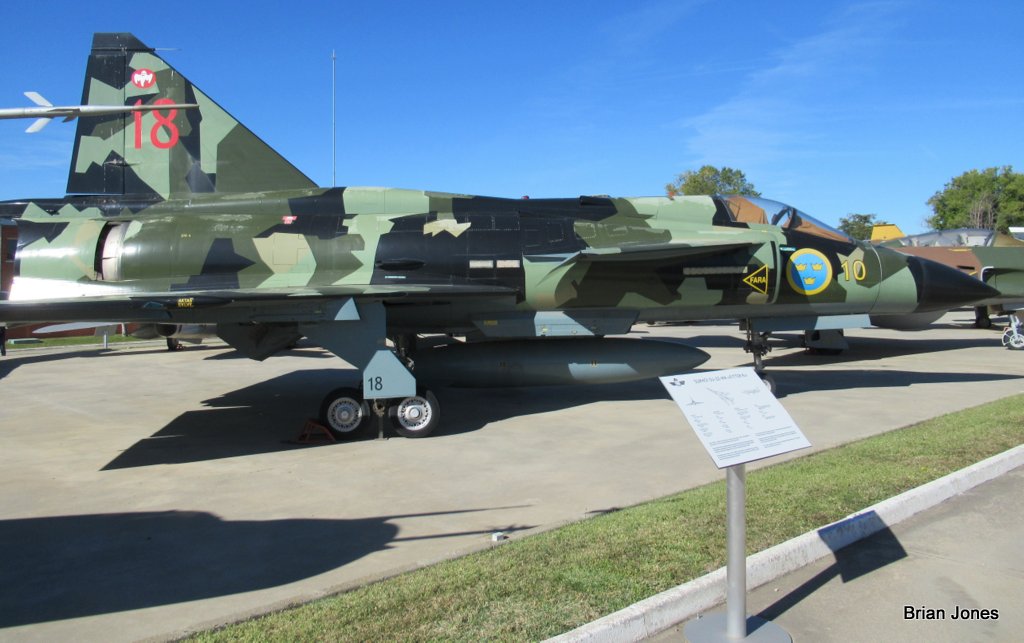 While more recognisable is the bulk of the more recent Swedish Saab AJ-37 Viggen.
Four exhibits are aircraft from the Soviet bloc. From Bulgaria, and now shown in Bulgarian markings (for some time it was in Soviet colours), a Mig-17F (although the interpretation board called it a Mig-17A) Fresco.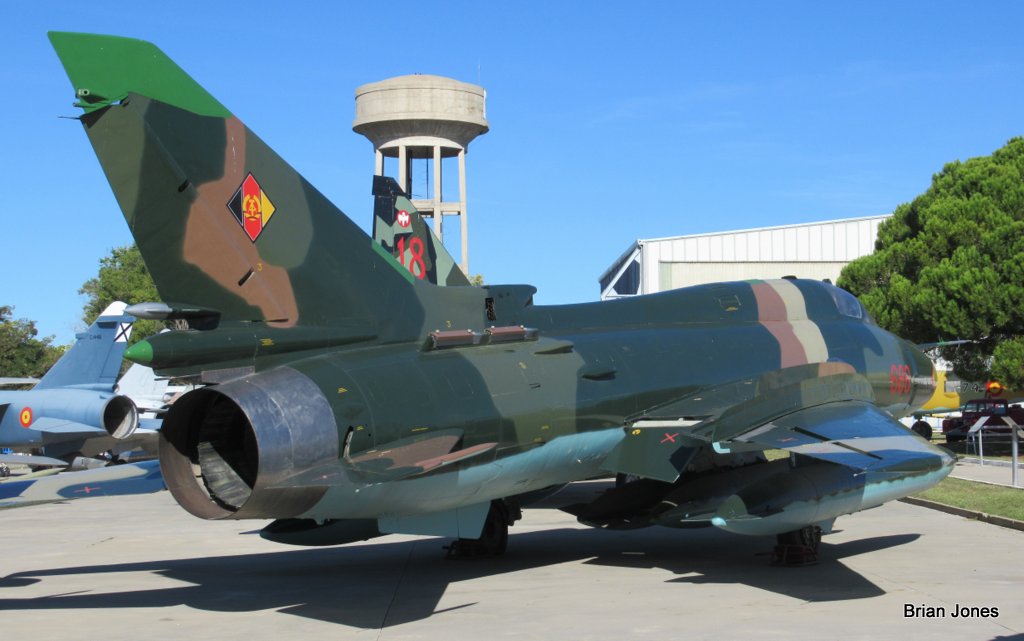 DDR, East German marked red 686 is a Sukhoi Su-22M4 Fitter K. After re-unification this was 25+18 of the German Air Force and was in those marks and looking very worn when seen in those marks in 1995. Actually, I wonder if it ever looked as smart, shiny and threatening as it does today, while in service with the German Democratic Republic Air Force?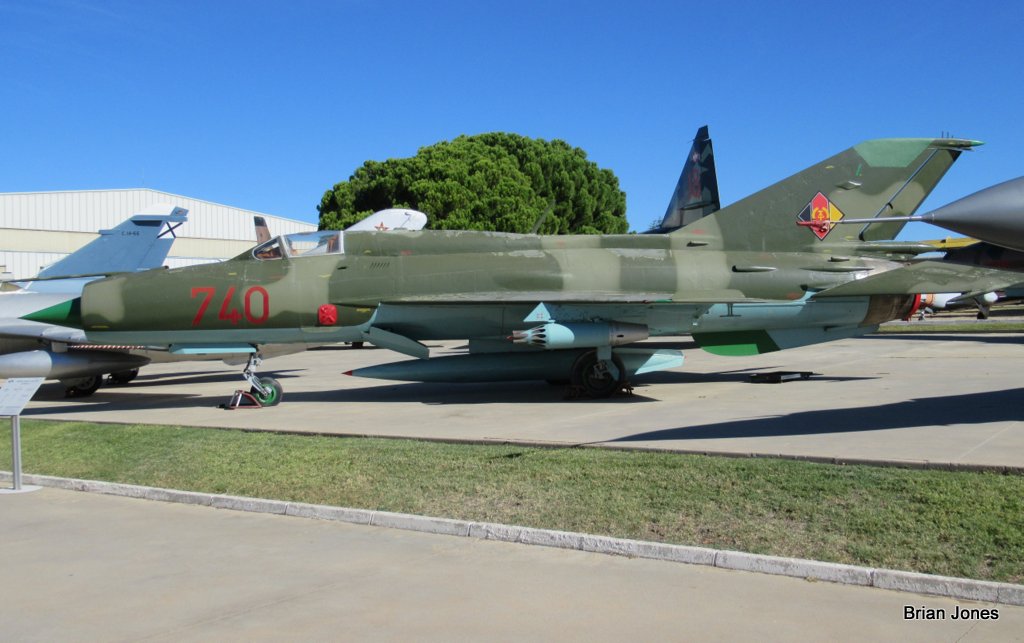 Perhaps a more familiar Soviet shape is the Migoyan Mig-21MF Fishbed F, red 740. Same pedigree as the Su-22 and was GAF 25+18 when seen in 1995. Also on display is a Migoyan Mig-23MF Flogger G, red 340, once GAF 20+12.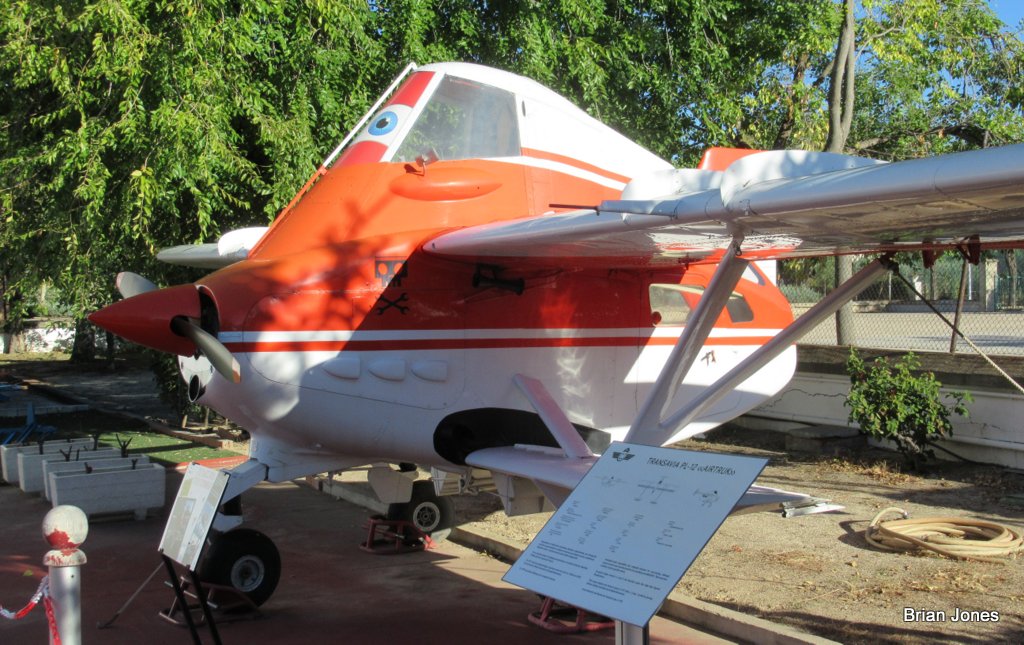 One of the most out-of-place aircraft on display is this Transavia PL-12T Turbo Airfarmer VH-TRQ. An Australian design, very few ever making the long trip to Europe. Not sure of its relevance to the collection, but good to see it looked after and on display just inside the entrance, although most visitors will walk straight past it. Someone, with a tin paint, has painted eyes on the forward cockpit windows, creating a 'Toy Story' cartoon look to the aircraft.
Following shortly (although took longer than intended due to PC issues and a short-break trip) as next post on this thread, a large hangar with a well presented (if rather in the dark) collection of early aircraft and those of the 1926-1936 decade of record-breaking flights from Spain.