Post by viscount on Feb 8, 2014 0:18:21 GMT 1
MY VISITS TO THE ISLE OF MAN, 1973 - 2003
Looking back through my log books, magazines and photo collection to find details and illustrations to enter on the Jurby thread, set me thinking about the aviation aspects of my other visits to the Island, six in all over a period of some 30 years. I'm going to indulge myself on this thread with memories, logs and photos – both general and aviation. It will show as snapshots aviation activity over the decades as services to the Island have evolved over time.
MAY 1973
First visit was shortly after I started working, and was invited to help out decorating a cottage at Craigneish, owned by the family of a friend. Being able to get Friday afternoon off the other two travelled by ferry, collected a hire Mini and picked me up at the Airport after I had finished work. The main detail omitted so far is that it was late May, so TT practice week. We kept on getting caught 'on the wrong side' of the circuit, so had to watch proceedings – well that was our excuse for not painting all the time! The others were not so 'into' aviation, my log of aircraft seen is mostly on passing Ronaldsway, or noted flying over on approach/departure.
Friday 25th May 1973
. Flew over on Cambrian/BAS Viscount 806 G-AOYM, piloted by Capt. Renyolds at 8,000ft at a little under 300mph, departing Speke 1617, arriving Ronaldsway 1645, airborne for some 28 minutes. Noted on arrival: G-AVCY a Twin Comanche of IoM Flying Club and Aztec 250 G-AYWG. During the evening noted EI-AVC and EI-AWF flying over, plus a Skyvan on its way to Belfast.
Saturday 26th May 1973
. G-AOYO Viscount 806 of Northeast noted on the ground, along with G-AVCY of IoMFC and G-AVFW Twin Comanches, G-ATMP Cessna 210, G-AWMZ Cessna 172, G-ASYB Aztec 250 and G-AXDJ Cessna 172. Noted flying over: G-APEN Vanguard of BEA, G-AZNC Viscount of BMA, G-ARMW Avro 748 of Skyways and G-AOYM Viscount 806 of Cambrian.
Sunday 27th May 1973
. G-ASED Viscount of BMA on the ground. In the air: G-AYRY HS.125 of McAlpines, G-AZLR Viscount and EI-AWF Cessna 337.
Monday 28th May 1973
. Flying-over noted EI-AVC Cessna 337, G-ASPA Dove and G-ATDL Cessna 310.
Tuesday 29th May 1973
. Passing the Airport en route to the ferry terminal noted G-AOYG Viscount 806 Cambrian, G-AVCY Twin Comanche IoM FC, G-AXDJ Cessna 172, G-AXVA Cessna 401A Bass Charrington and G-AYZP Twin Comanche.
I travelled back to Liverpool with the others by Steam Packet ferry, but no note as to which vessel as ships held little interest at the time! I do remember clearly with great annoyance that I dropped my year old Practika Nova camera onto the steel deck, unseating the canvas-blind shutter. In my log book I have pencilled in the margin: Cine & Electronic Services of Brunswick St; Moore & Co of Dale St and Newton Ellis of Victoria St – companies anyone with an SLR camera needing repair in Liverpool will have known well. Forget now who actually got the repair job, but they seemed to take half the summer to get it done!
In 1973 I was no expert with a camera. I appear to have over time mislaid any IoM aviation photos, as I must surely have taken some! Do have around 25 general tourist and TT shots in a box still. I know the IoM prides itself on its transport and industrial heritage and slow pace of change. Some of these images could have been taken last week, not 40 years ago - the age of the images being given away by the colour cast!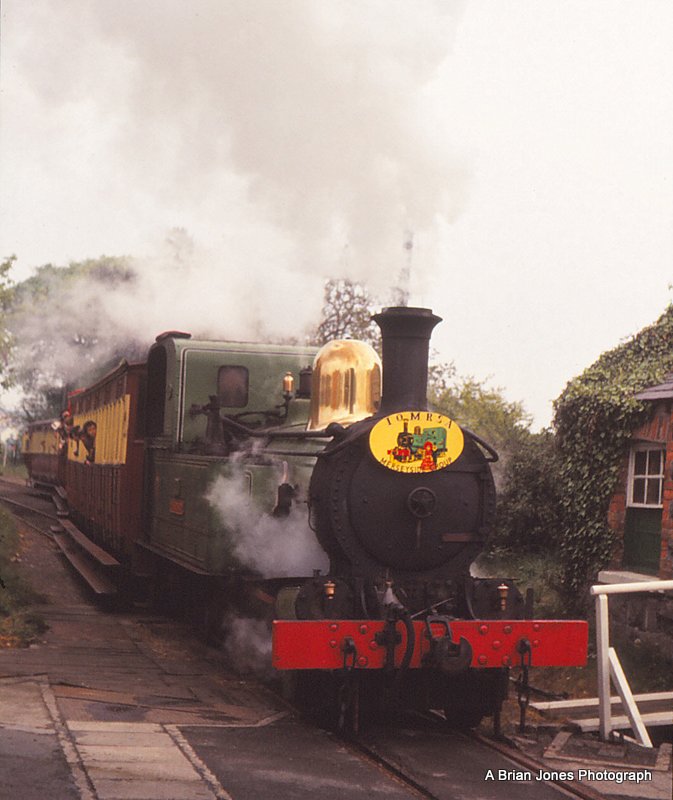 The Manx steam railway is timeless.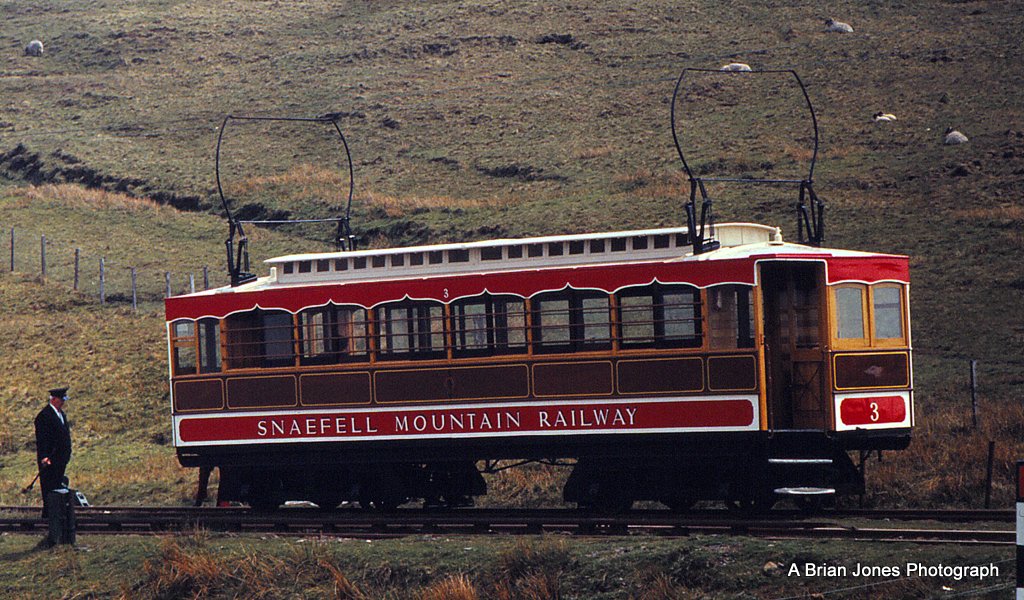 As is the electric tram, this is somewhere up the flank of Snaefell.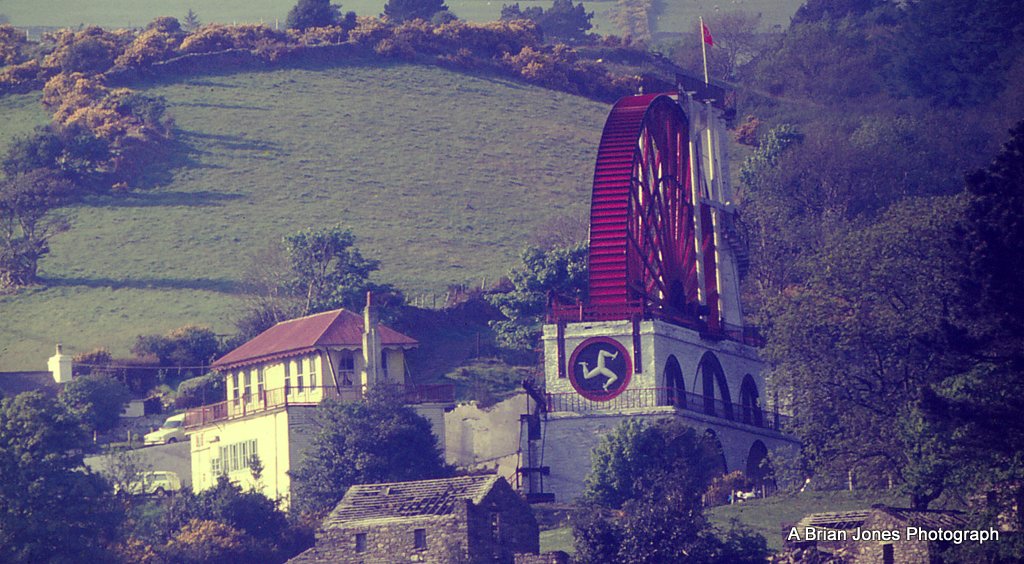 So unmistakably the Isle of Man, Laxey Wheel - visited on every occasion I have had time to venture north of Douglas!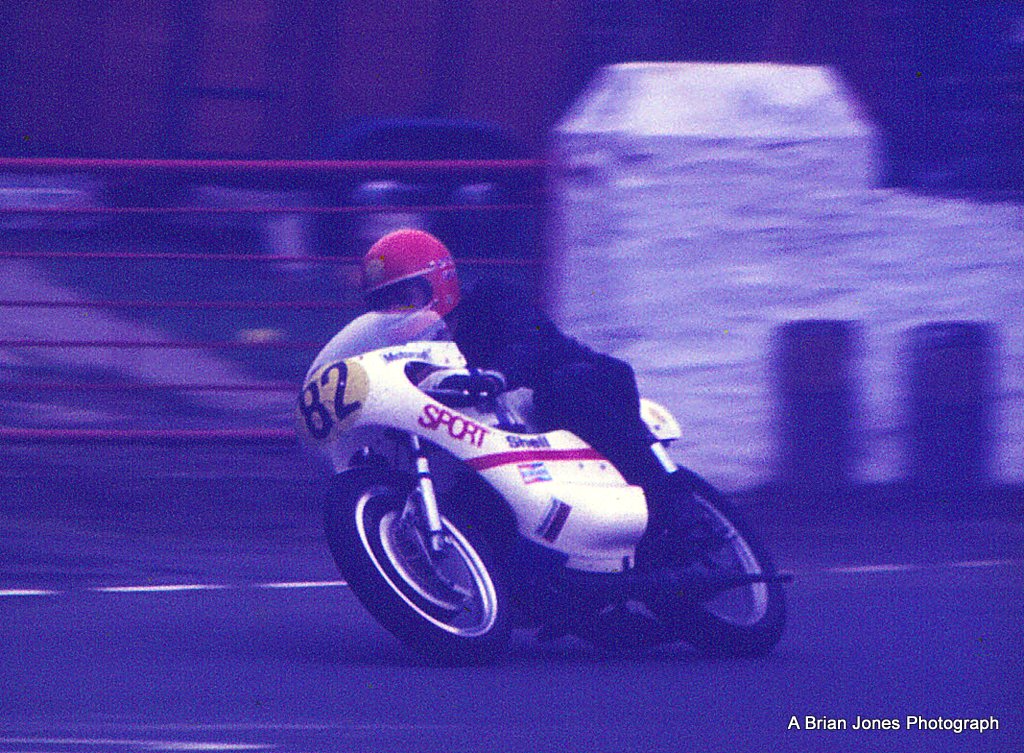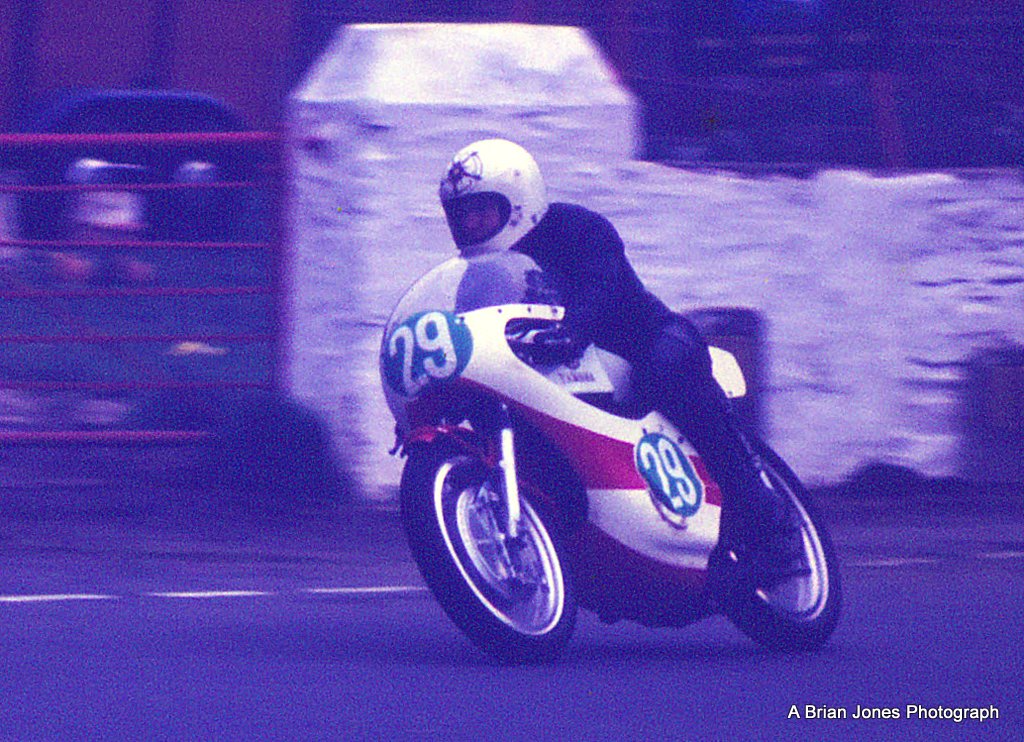 No idea who the riders are, they were snapped as they slowed to round a bend. How helmet design has changed!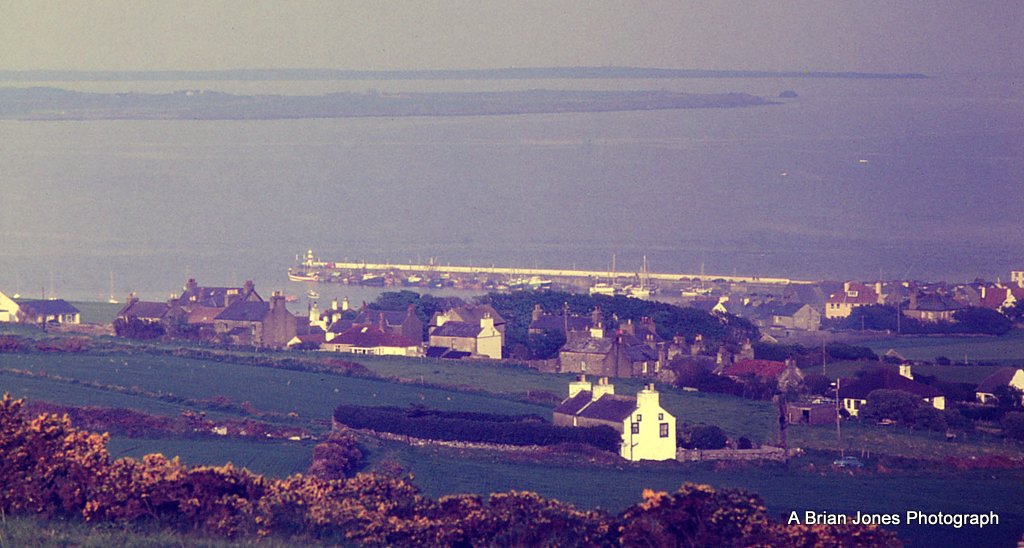 Port St.Mary, seen from the highland behind the town.
APRIL 1981
I have no idea if I had a camera with me or not. Certainly have no log or photos – mind you I was only on the Island long enough to consume half a mug of scalding coffee in a crew room.
Saturday, 4th April 1981
. One of those 'one-off' occasions in life that stay vividly in the memory. The mother of a spotter friend ('Photogenix' a regular user of this forum) worked for Vernair and arranged for me to fly in the company's SC-7 Skyvan G-AWWS with the IoM mail. That is quite literally 'with' the mail, as there was no passenger seat, not even a functioning jump seat – so held on or sat on the sacks there and back, getting cold as there was a 3" gap between floor and ramp letting in a gale and through which the waves could be seen sliding past directly below. Capt. Milne, Chief pilot of Vernair flew the outbound leg at 2500ft and 140kt indicated in 38 minutes, his co-pilot the return leg at 3500ft and 140kt in 36 minutes. Quite a 'never-to-be-repeated' experience.
AUGUST 1986
As already related on the Jurby Airfield thread, being 'cash poor' in summer '86 following taking on of a mortgage and purchase of a new car, I spent a week on the Island solo, camping and on a strict daily budget of £15 covering all transport (including to and from IoM), food, site fees, entrances – but not film! A week of walking, rover ticket transport and sight-seeing for a shade over £100 – doubt if I could get there and back for that today! Needless to say, wherever I was headed each day, it was via Ronaldsway - even if that was a very long way around! The holiday was timed deliberately to include the annual Jurby Air Day, for which the weather was quite decent, log and photos for that event are on that thread, so no point in repeating here. However away from Jurby, I did log much activity at Ronaldsway.
Tuesday, 5th August 1986
, 1440-1500
Airliners: Arrived IoM on Viscount G-BAPF on Manx "Farecracker" Flight JE 002, full BMA scheme and titles, landed 27 after 28 minutes at a cruise of 12,000ft. G-RMSS SD.360 Manx.
Residents: G-APUZ Comanche, G-BAVZ Aztec 250, G-CALL Aztec 250, G-BGSG Seminole 180
Visitors: G-AXJV Cherokee 140, G-OAVW Trislander, G-RUIA Cessna 172 and a Commander 114.
Thursday, 7th August
, 1800-1840
Airliners: G-BMAR Short SD.360 of Manx and G-OJSY Short SD.360 of Jersey European.
Residents: G-APUZ Comanche (arrived).
Visitors: G-AXJV Cherokee 140 (departed), G-OAVW Trislander, EI-BSK TB-9 Tampico, PH-HLA Beech 24R Sierra
Saturday, 9th August
, 1130-1245
Airliners: G-BFZL Viscount, G-BMAR, G-LEGS & G-WACK all SD.360s all of Manx; G-BGEN Twin Otter of Loganair and EI-BEK Short SD.360 of Aer Lingus.
Residents: G-BELR Cherokee 140, G-COMB Twin Comanche
Visitors: G-ARGO Colt 108, G-ARMP Cessna 172 (arrived), G-AYCT/3 Cessna 172, G-AZSZ Aztec 250 Ravenair (arrived), G-BACC Cessna FRA150L, G-BAGR Robin DR.400, G-DDCD Dove 8 (ex G-ARUM), G-SRES King Air 300 Vernair, EI-BLL Cessna 172, EI-BRM Cessna 172 (departed), PH-HLA Sierra, SE-FLD Cherokee Six 260 (arrived).
Sunday, 10th August
– at Jurby Air Day. For log and photos:
www.derbosoft.proboards.com/thread/14225/jurby-airfield-twilight-years
Tuesday 12th August
, 1615-1840
Airliners: G-BAPF Viscount, G-BMAR, G-LEGS & G-RMSS all SD.360s all of Manx; G-OJSY Short SD.360 of Jersey European operating Belfast Harbour to Blackpool
Residents: G-BELR Cherokee 140, G-CALL Aztec 250, G-AZWS Cherokee Arrow
Visitors: G-ATFY Cessna 172 (local flt), G-BBTH Cessna 172 (departed), G-BFBF Cherokee 140 (departed), G-BHIC Cessna 172 (departed), G-BLLZ Long Ez, G-CHIP Cherokee 181, G-KAIR Cherokee 181, G-LEON Navajo 350 Chauffair, G-OAVW Trislander, G-SFHR Aztec 250 Apollo Leisure (arrived), G-SRES King Air 300 Vernair, EI-BKD Mooney M.20J, F-GFAA King Air 200, N6955R Musketeer.
Wednesday, 13th August
, 0910-1315
Airliners G-BAPF Viscount, G-BMAR, G-LEGS & G-RMSS all Short 360s, all Manx; G-OJSY Short SD.360 Jersey European.
Residents: G-AZRG Aztec 250, G-BBBN Cherokee, G-CALL Aztec 250
Visitors: G-ATFY Cessna 172, G-AZRD Cessna 401 (arr, dep & arr), G-BASL Cherokee (arrived), G-BLLZ Long Ez (departed), G-CHIP Cherokee 181, G-KAIR Cherokee 181, G-LEON Navajo 350 (departed), G-OCME Trislander, G-PRMC BAe.125/700B RMC (arrived), G-SRES King Air 300, EI-BMK Cessna 310 Iona (arrived), EI-BSK TB-9 Tampico, F-GFAA King Air 200, N6955R Musketeer (departed).
Flight home was again on Viscount G-BAPF (deputising for Manx's own G-BFZL on maintenance) on Manx 'Farecracker' flight JE001 departing 09 at Ronaldsway (runway heading has been renumbered since on magnetic drift) flying at 11,000' commanded by Capt. Worthington, landing on Liverpool's 09 after a flight of 24 minutes.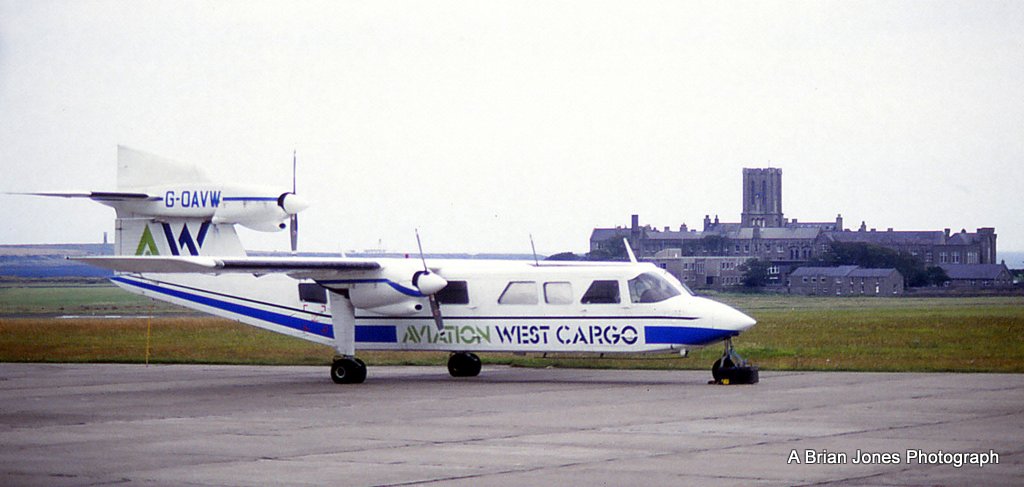 G-OAVW BN Trislander of Aviation West Cargo was in use on the twice daily mail contract between Liverpool and the Island.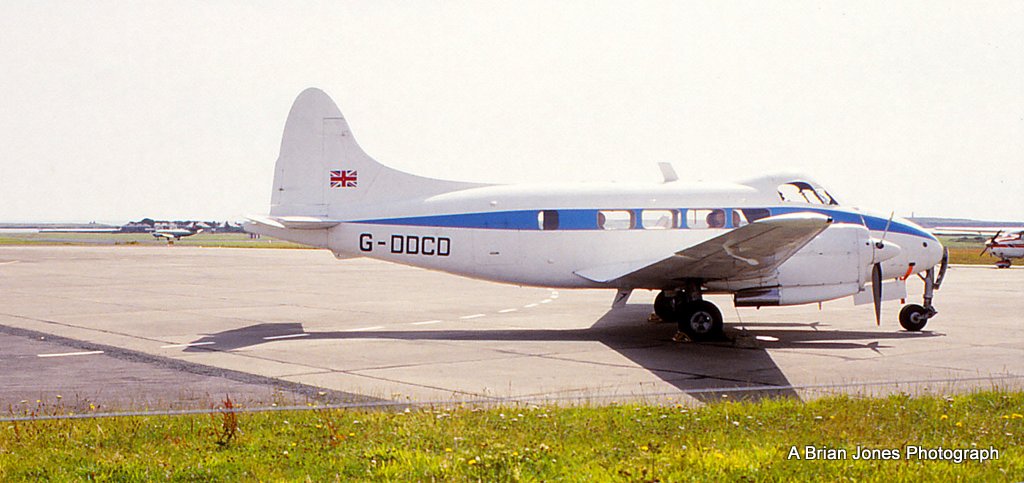 G-DDCD a Dove 8, recently re-registered from G-ARUM with the registration rather oddly applied. The aircraft was en route to the Jurby Show, but seen here at Ronaldsway the day before.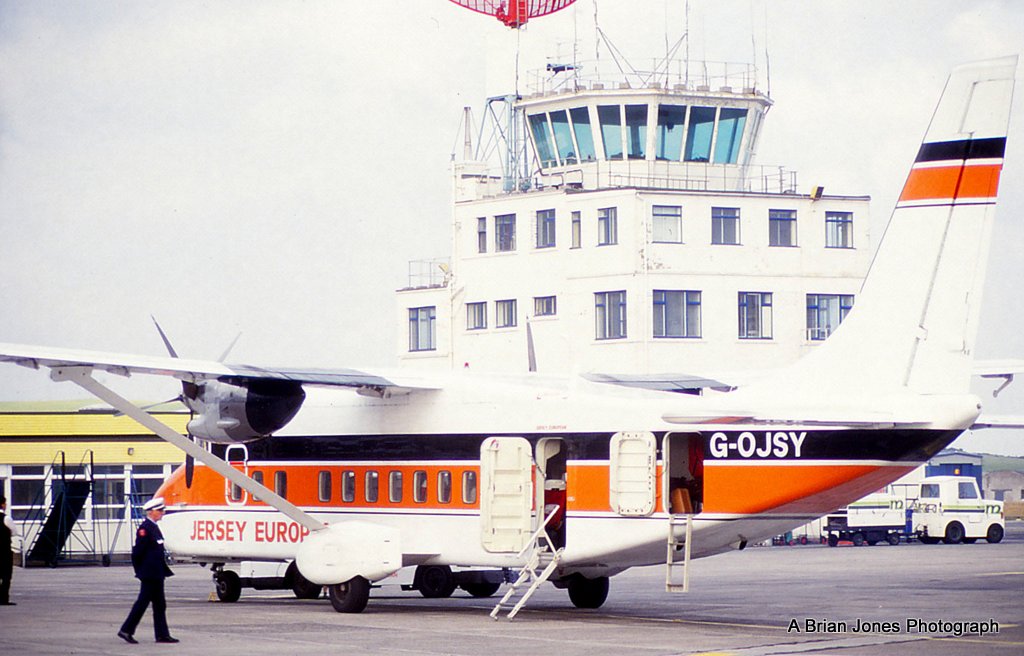 G-OJSY Short 3-60 of JEA. The Short 3-60 was the mainstay of IoM passenger services in 1986, JEA connecting the IoM to Blackpool and Belfast.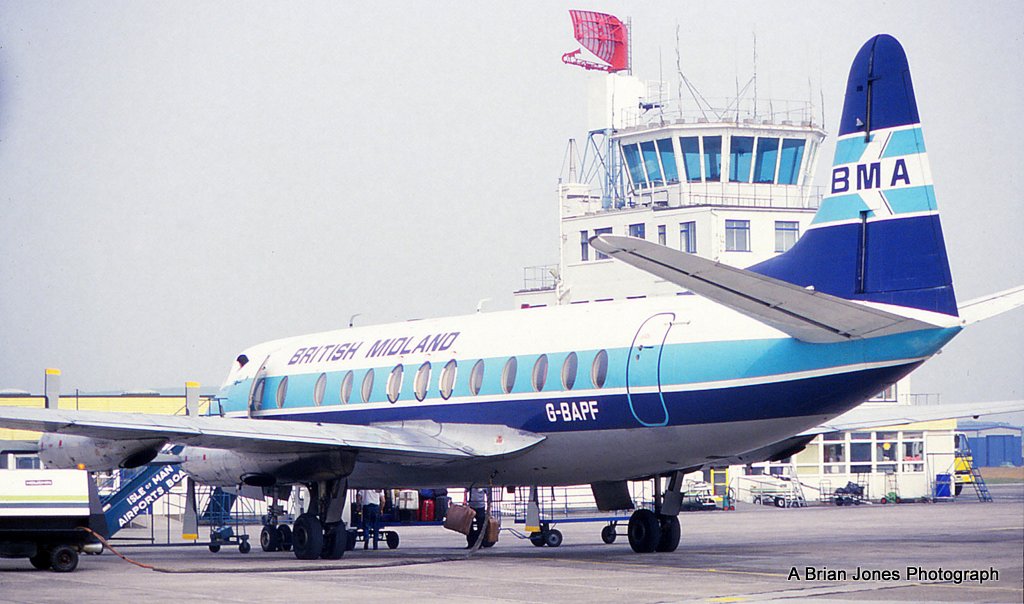 I had anticipated flying both ways on Manx's Viscount G-BFZL, however on both days I travelled on the lunch-time "Farecracker" flight it was operated by stand-in G-BAPF of British Midland.
IoM Resident Aircraft, 1986
Going off the topic of this thread, in my notes is a list of IoM residents, dated April 1986 and updated by my visit.

G-ACLL  Leopard Moth                      G-AZWS  Cherokee Arrow                         G-CITY  Navajo 350
G-APUZ  Comanche 250                      G-BAVZ  Aztec 250                              G-COMB  Twin Comanche
G-ASRH  Twin Comanche                     G-BCIL  AA-1B Trainer                          G-BBSV  Cessna 421 (shared with Elstree)
G-ATRR  Cherokee                          G-BELR  Cherokee                               G-SFHR  Aztec 250 (shared with Blackpool)
G-AXIE  Pup 150                           G-BGVV  AA-5                                   G-YABU  Commander 695
G-AYVY  Tiger Moth                        G-BHLE  Robin Dr.400                           N71AF   Commander 680
G-AZMA  Jodel D.140B (shared Mullaghmore) G-BIHY  Issacs Fury                            N26634  Comanche 250 (shared with Ipswich)
G-AZOE  Airtourer                         G-BKSS  Jodel D.150 (stored, no Permit to Fly) 
G-AZRG  Aztec 250                         G-CALL  Aztec 250
Manx Fleet: G-BFZL Viscount; G-BMAR (new '86),G-ISLE, G-LEGS, G-RMSS, G-WACK (new '86) all SD.3-60.
Finally, oh yes, the same source notes that the 'movement of the year' at Ronaldsway had been recorded on 20th May 1986 when USAF C-141B Starlifter 38080 which performed an en route touch and go. Wow!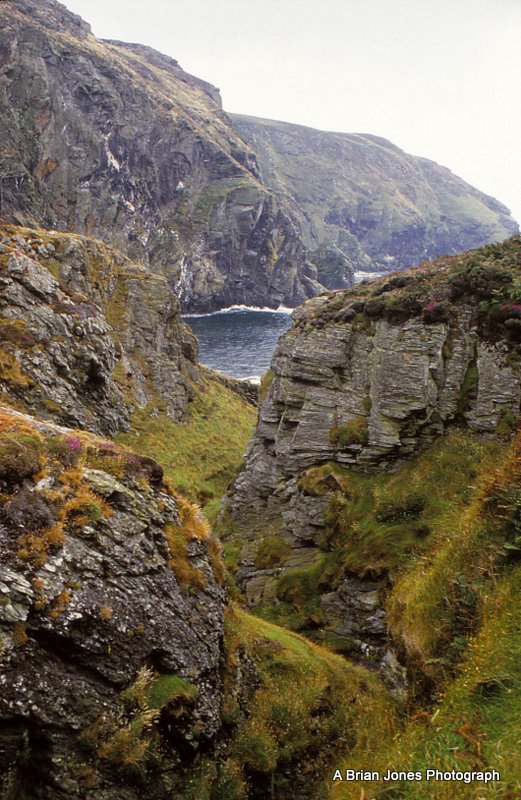 Cliffs down at the very southern tip of the Island, in the area of Spanish Head.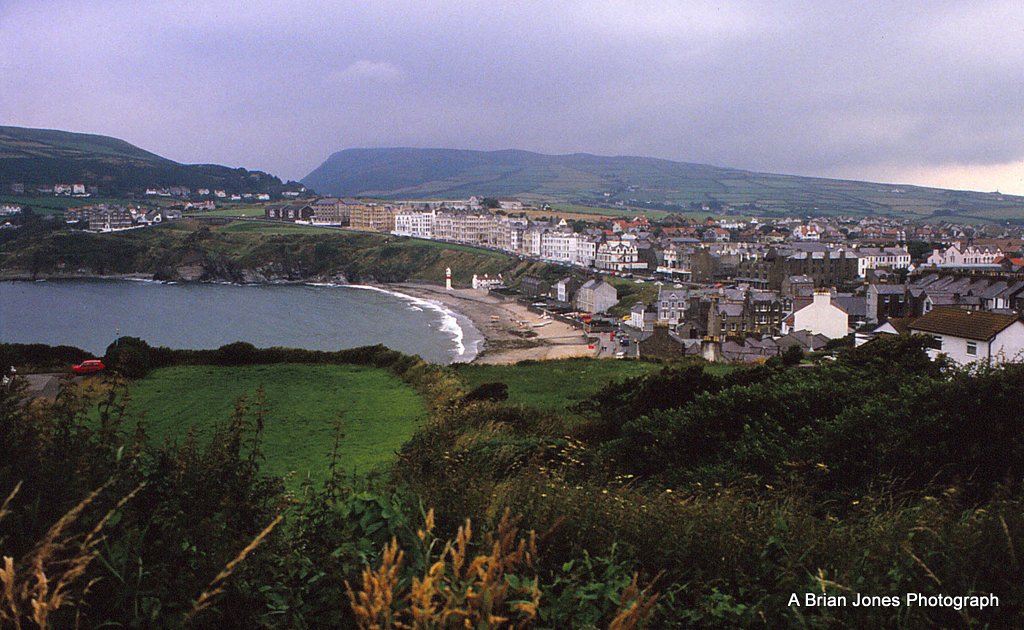 Port Erin, nestled in its bay at the south of the Island.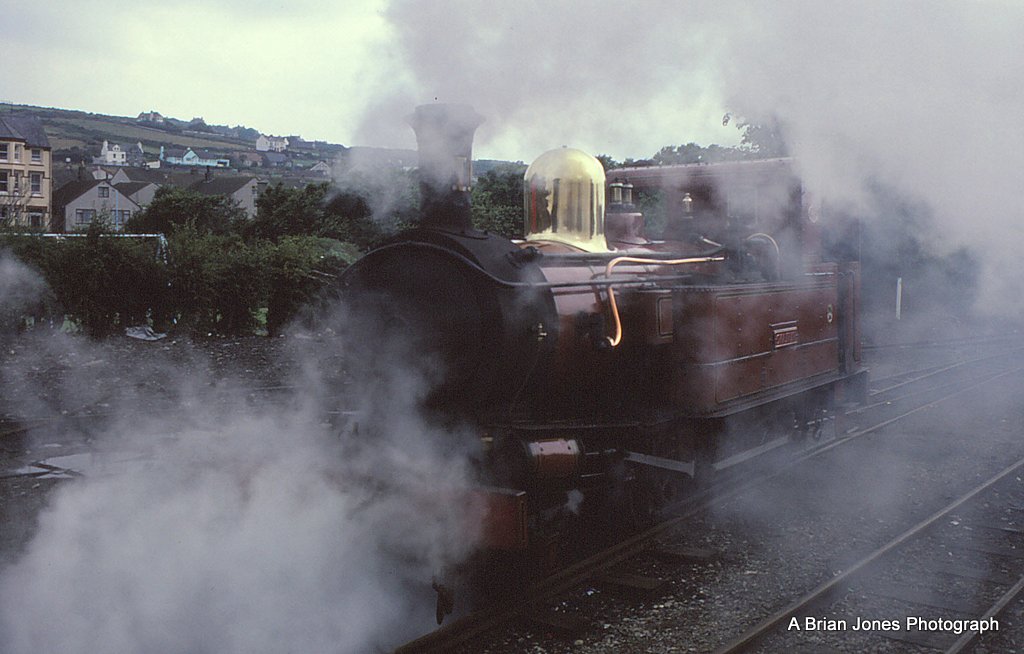 Steam trains and cameras somehow have a magnetic attraction, and usually produce a great image!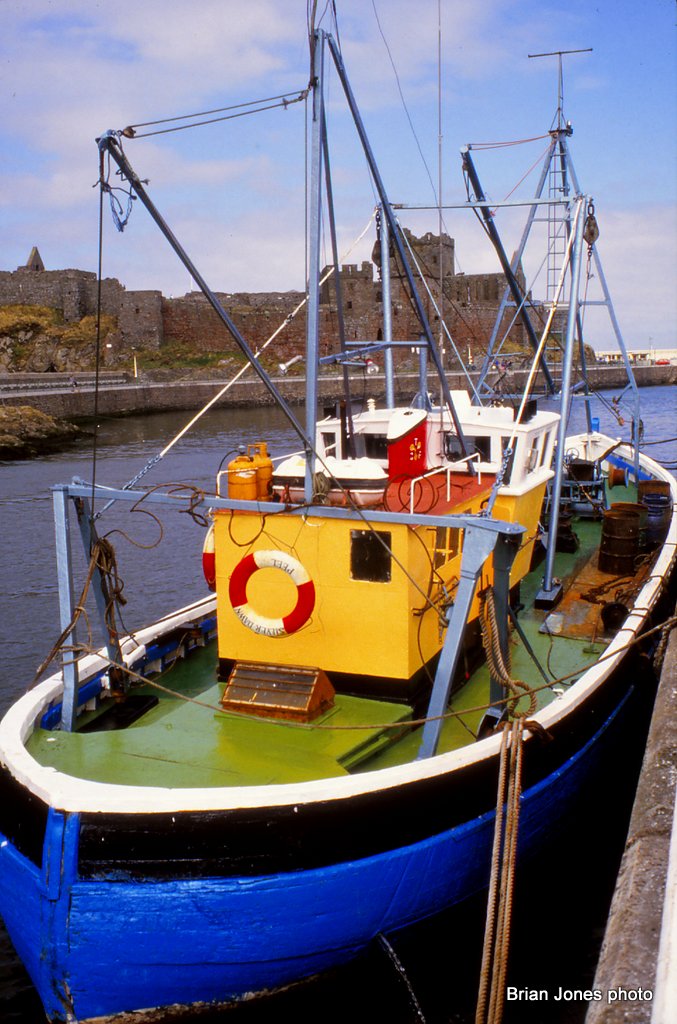 Peel harbour and Castle.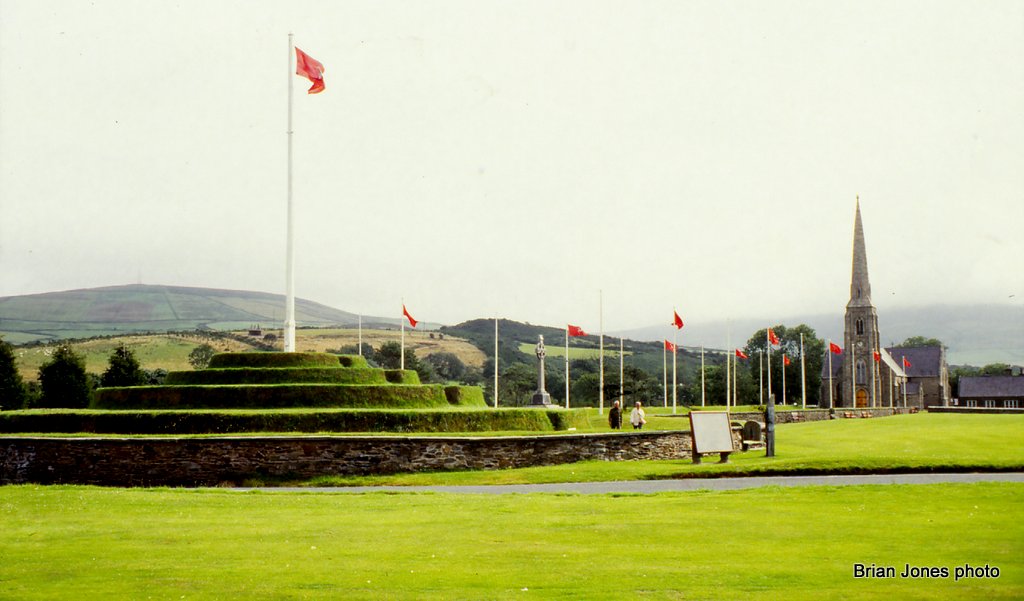 Tynwald Hill, St.Johns - another call on the tourist trail. The light was strange, with sun through rain - the grass was not that green!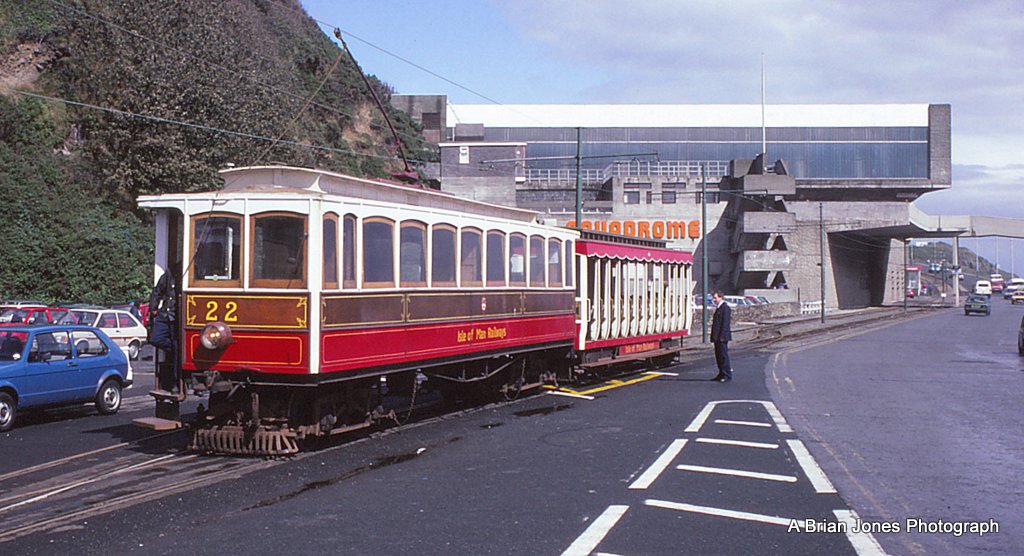 The coastal electric tram route, here at the Douglas terminus.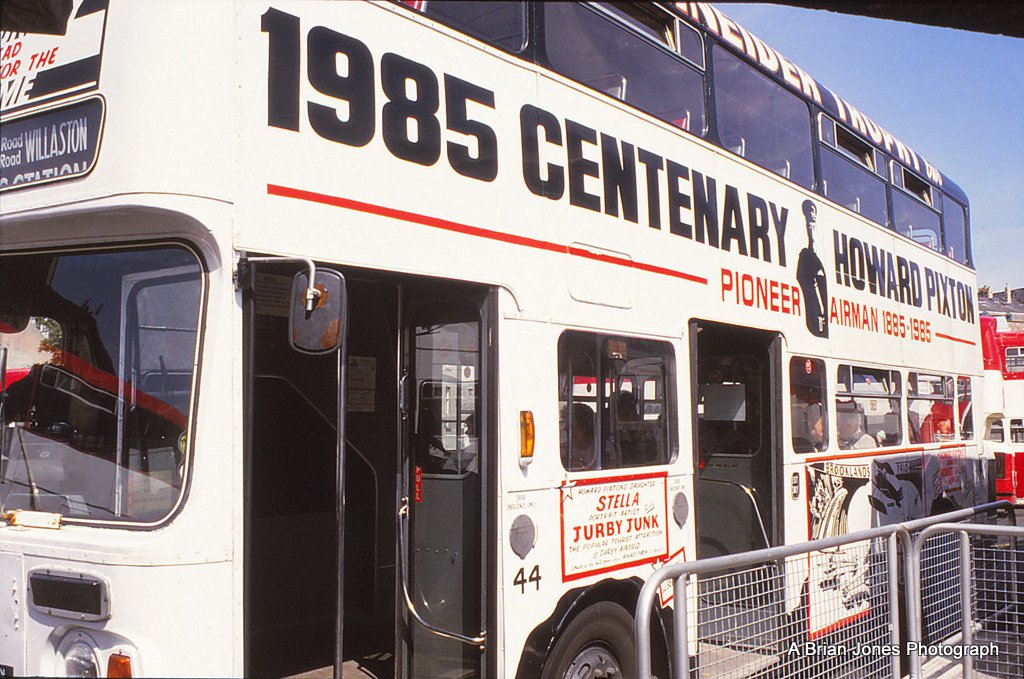 One way to get the message across to everyone, paint a bus to celebrate your local aviation pioneer.
OCTOBER 1996



At the invitation of Manx Airlines, 30 FoLA members visited the new Manx Airlines Engineering facilities on the morning of Saturday, 5th October. We arrived on BAe.ATP G-MANB flown by Capt. Pemberton on flight JE012 at 0920 after a 27 minute flight off 27 and onto 26 at a cruise of 10,000', sat in seat 10D. On a bright, sunny but cool morning we walked the few hundred metres from the terminal to Manx's new main maintenance hangar, observing an Air Bristol BAC.1-11 on an inbound charter from Amsterdam and Manx Airlines schemed Aztec G-BAED amongst others.

Manx engineering were working on two aircraft. First we were shown BAe.ATP G-MANJ of British Regional, which was the first to undergo a 10 year check, taking two weeks. Dismantling might be a better word than check with the inside and cockpit gutted – but within a week it would all be back together again! The other aircraft in for attention was Jetstream 41 G-MAJJ. After an hour being shown around and chatting to David Neill, Manx's Commercial Manager, we strolled back to the terminal to meet Airport Services Manager Ian Moffet for a tour around the terminal and a buffet in the recently refurbished lounge. At 1pm Keith Hardwick and myself collected two self-drive hire minibuses and we all set off on a tour of Castletown, Port St.Mary, Calf viewpoint, Craigneish, Port Erin then north over the moorlands to Peel for tea, cakes and ice cream before Tynwald, TT course back to Onchan Head, Douglas and Ronaldsway for JE013 check-in, with a 1850 departure, having driven 68 enjoyable miles and impressed all of our first time visitors with the Island's attractions.

Saturday, 5th October 1996

Airliners:                                 General Aviation:
G-AVMT BAC.111-510    AB Shannon  charter  G-ATVL  Cherokee                    G-BUMP  Cherokee
G-MAJJ Jetstream 41   BRT/BAW     hangar   G-AWIT  Cherokee                    G-DARA  Seneca
G-MAJK Jetstream 41   BRT/BAW              G-AYPV  Cherokee                    G-ODJH  Mooney M.20
G-MANB BAe.ATP        Manx                 G-AZEG  Cherokee                    G-PTER  Cherokee
G-MANC BAe.ATP        Manx                 G-BAED  Aztec 250        Manx cols  G-TSGJ  Cherokee
G-MANE BAe.ATP        BRT/BAW              G-BIYO  Navajo 350       NEA 
G-MANJ BAe.ATP        BRT/BAW     hangar   G-BMJT  Beech 76 Duchess
G-MIMA BAe.146-200    BAW scheme           G-BMUT  Seneca
G-OBHD Short SD.360   Jersey European      G-BRXO  Seneca           red
G-OJEM HS.748         Emerald              G-BTAM  Cherokee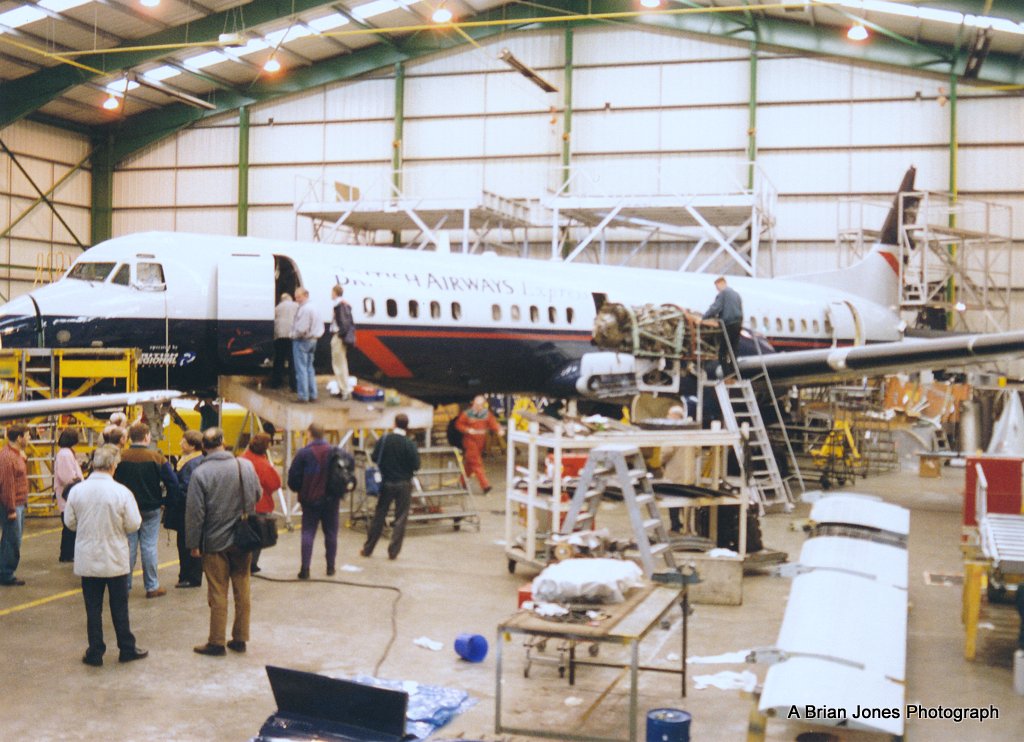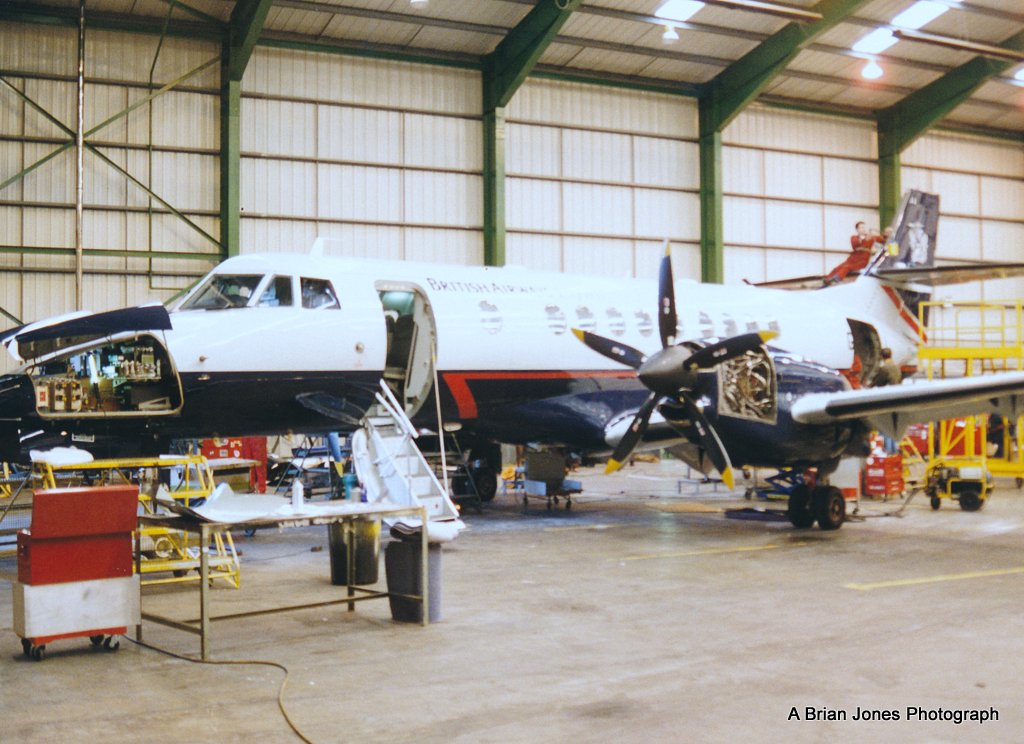 A BAe.ATP and a Jetstream 41 receiving attention inside Manx Engineering's new hangar. Not my best in-hangar shots ever, but a record of our visit.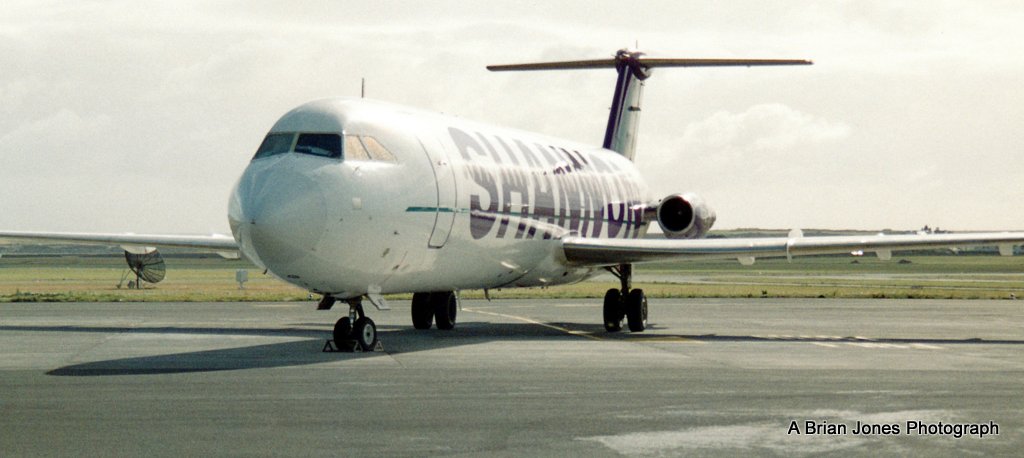 G-AVMT BAC.11-510 operated an inbound charter from Amsterdam with Dutch factory workers on an 'incentive' weekend break.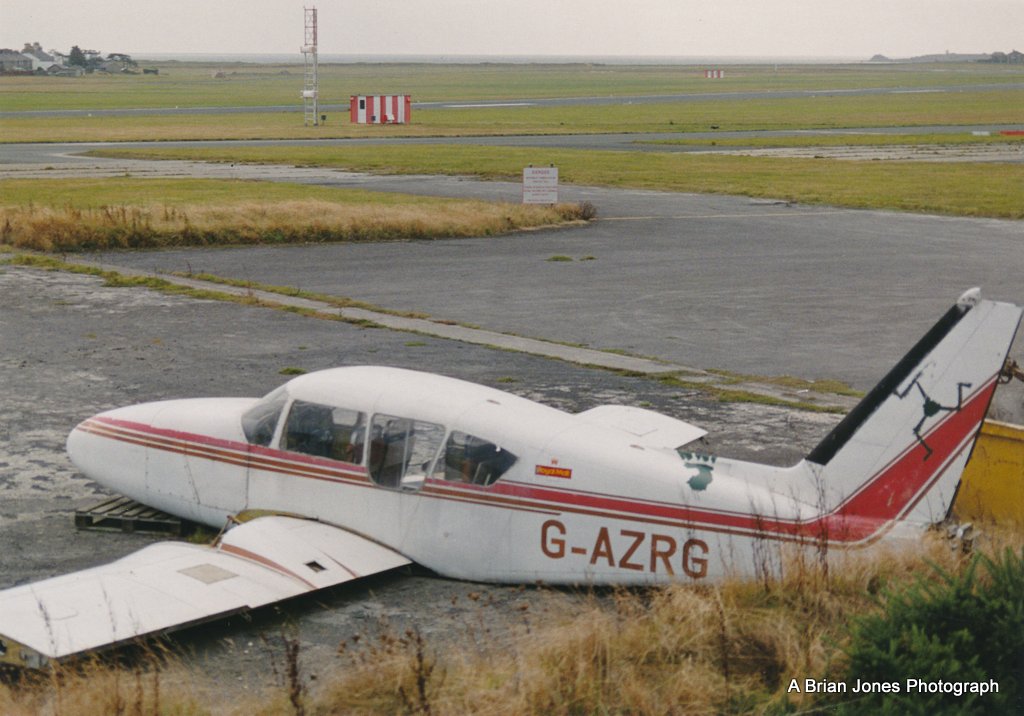 Final resting place of Aztec G-AZRG in the fire pit, although not burnt.
Well, while the majority returned to Liverpool, myself and Wal Gandy utilised one of the Minibuses for the full 24 hours of hire, by returning to Douglas to find our B&B for the night. The following day,
Sunday 6th October
, we set out to locate Andreas, Hall Caine and Jurby airfields. Sounds easy – it wasn't! Andreas and Hall Caine proved very difficult to pin-down, while Jurby was easier to locate, but the hangar was all shut-up.
HALL CAINE
Found the gliding site with some difficulty, but could only locate a glider box and a launch winch without getting our feet too muddy. Site felt abandoned.
JURBY AIRFIELD

In the hangar could be seen:
G-ACLL               Puss Moth stored
8458M (XP672/G-RAFI) coded 27 a Jet Provost T.4 in red/white RAF training colours
G-MBJN               Electraflyer Eagle microlight
G-MMTL               Mainair Gemini/Southdown Sprint flexiwing 
G-MNA*               microlight, inscribed 'Manx Flyers Flying Club'
G-MWYJ               flexiwing
BGA14**              a wood framed, fabric covered single seat glider (either BGA.1492/CEV a Bergfalke II, or BGA.1424/XC a Slingsby Cadet – both have                
                     been stored at Jurby!)
ANDREAS AERODROME

G-BMFI               PZL SZD-45A Ogar, motor glider
G-MVJG               flexiwing , plus 5 wings folded up and 4 pods from further microlights
BGA.1830/CVA         LET L.13 Blanik glider assembled, plus maybe a further two gliders in locked glider boxes
Not written down, but sure we also saw Auster G-AHAU and an AA-5 type which had clearly been sat outside in tall grass for some while since a minor accident.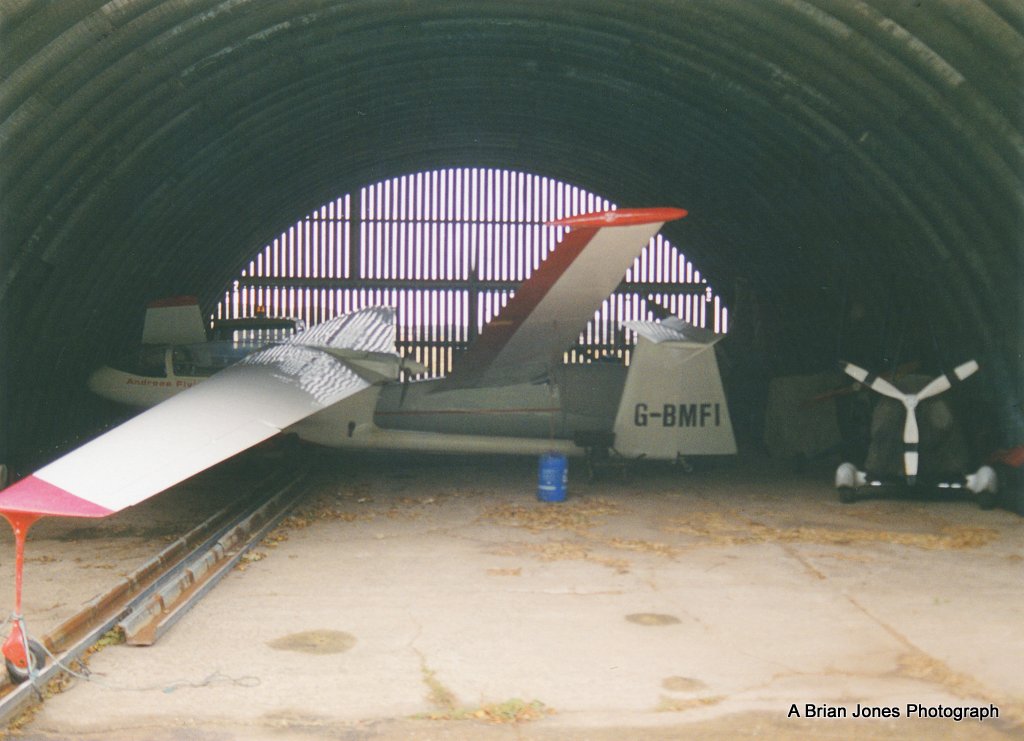 The hangar at Andreas, with Ogar, Blanik and the pod of a flexiwing.
RONALDSWAY
Back to Ronaldsway, returned the hire vehicle at 1pm (now with 171 miles driven) and home on Manx BAe.ATP G-MANC on JE037 sat in seat 3B for the 27 minute flight, departing off 26 at 1525 and onto 27 at 1552, so a flight time of 27 minutes at 9,000' cruise, flown by Capt. Coates.
While waiting for our flight, during the afternoon observed:

Airliners: G-BRLY BAe.ATP on maintenance apron, G-MAJK Jetstream 41 on maintenance apron, G-MANA & G-MANC ATPs of Manx; G-OJEM HS.748 Emerald.

G-ATRR  Cherokee         Flying Club       G-BIYO  Navajo 350        NEA         G-INDC  Cessna 303
G-ATUL  Cherokee                           G-BJMR  Cessna 310                    G-KWAX  Cessna 172 
G-AWIT  Cherokee                           G-BMUT  Seneca                        G-ODJH  Mooney M.20
G-AYPV  Cherokee                           G-BOIL  Cessna 172                    G-PETR  Cherokee
G-AZEG  Cherokee                           G-BRXO  Seneca all        red         G-RNLD  Agusta A.109
G-AZRG  Aztec 250        fire dump         G-BTAM  Cherokee                      G-ROWN  King Air 200
G-BAED  Aztec 250        Manx cols         G-BUMP  Cherokee                      DE-208 (G-AGYU)  Tiger Moth     camouflage/yellow 
G-BAVL  Aztec 250                          G-DARA  Seneca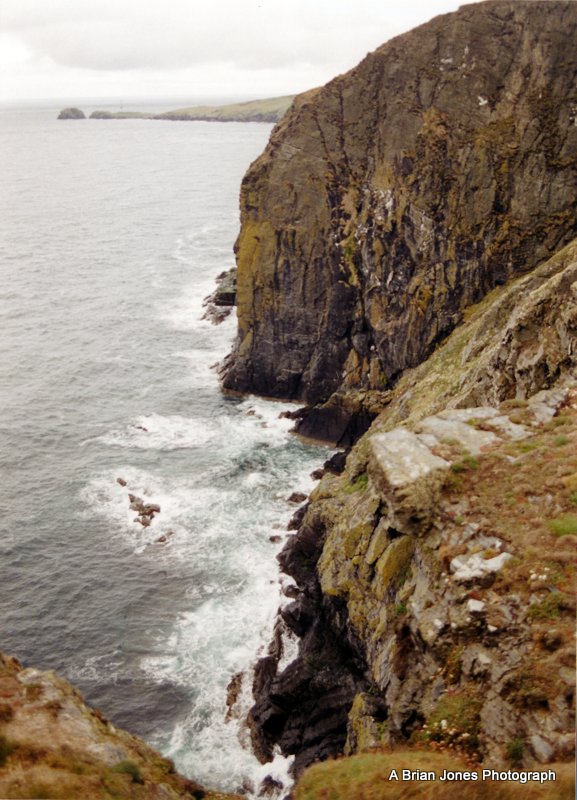 Headland at the southern tip, with the Calf of Man on the horizon.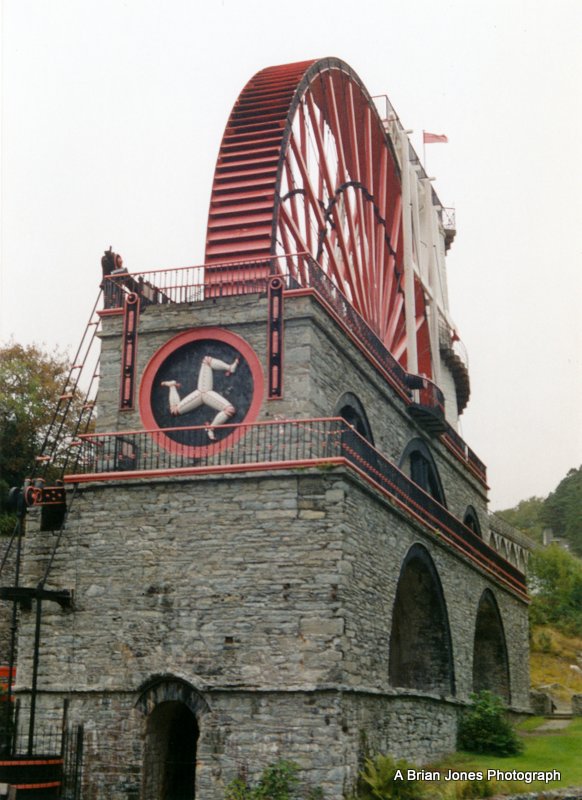 Just could not resist another Laxey Wheel image.
Thread continues on the next post covering visits in 1997 and 2003.